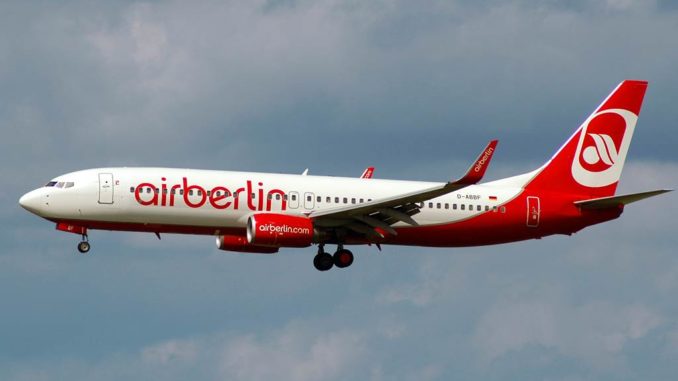 IAG, the parent company of British Airways as well as Iberia, Aer Lingus & Vueling, has apparently tabled a bid for Air Berlin according to Handelsblatt, the German business paper.
It's not known what parts IAG is bidding for and what price it's offering. The IAG group already has two low-cost operations,  Spain's Vueling using Airbus single-aisle A320 series aircraft and the recently launched LEVEL based in Barcelona, using twin-aisle Airbus A330s. Niki, the low-cost Austrian airline could be the target.
But Lufthansa and its bid for that and several other parts of Air Berlin are an obstacle, with sources saying it has offered a low three-digit million euro sum.
British budget airline Easyjet is also in the running and is believed to be interested in Air Berlin's takeoff and landing slots in Berlin as well as some routes to and from Hamburg, Munich and Düsseldorf. There are also two separate bids for Air Berlin as a whole by aviation investor Hans Rudolf Wöhrl and entrepreneur Utz Claasen, but industry analysts said creditors were unlikely to accept either over doubts about their plans' viability.
Meanwhile, Berlin-based logistics company Zeitfracht has made public its bid for Air Berlin's freight subsidiary Leisure Cargo, the Walter airline unit that has 20 aircraft and maintenance company Air Berlin Technik. Industry sources said there were no other bids for Leisure Cargo and Air Berlin Technik.
It is still unclear whether Niki Lauda, the former racing driver and founder of Niki, has gone ahead with his stated plan to launch a joint bid with Thomas Cook's German leisure airline Condor. He had declared an interest in Niki and in a number of Air Berlin planes. But industry sources said that Thomas Cook had also submitted its own bid. The company declined to comment.
The formal decision on who gets what will be announced on September 25, the day after the German election when creditors are hoping the certainty of bad news can be cushioned by election headlines. "It's clear that some parts will be left over and will probably have to be liquidated," a source close to the involved companies said. No one appears to be interested in bidding for Air Berlin's long-haul business, with sources saying Lufthansa has abandoned a plan to take over the 17 jets. "The planes are old; we can get better ones in the market," a Lufthansa manager told Handelsblatt.
Once the successful bidders have been announced, work will start on the details, and many prospective buyers are wondering whether they will be forced to take on all the Air Berlin staff at the units they've bid for. Under German law, all employees of active business operations sold off must be kept on at existing wages for one year.