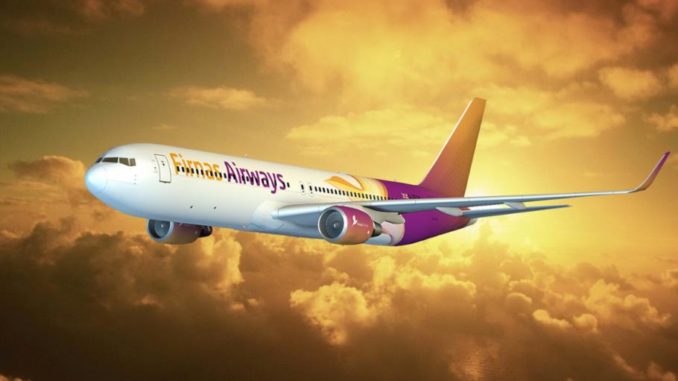 Later this year UK Broadcaster Channel4 plans to air a series called "How to start an Airline" which follows Kazi Rhaman as he tries to start Firnas Airways.
Kazi's vision is to create a long-haul airline to compete with British Airways and Virgin Atlantic by offering full-service facilities to "unserved and underserved destinations" whilst operating to Islamic values such as moderate dress for cabin crew and only serving halal food.
Firnas Airways recently took a step closer to reality when they agreed to a lease deal for a former Links Air Jetstream 31, G-LNKS. In an update, Kazi said "We have signed and sealed the lease deal of our FIRST AIRCRAFT! I am literally falling off my chair as I am typing this out of excitement, this is getting real now….". 
The aircraft is undergoing maintenance after being stored since Links Air collapsed in 2016 before Firnas Airways take delivery of the aircraft.
It is understood that Firnas plan to initially offer an ACMI charter service with the aircraft rather than operating their own scheduled routes.
Kazi plans to fund the airline via crowdfunding which explains why the most recent update is more of a sales pitch than an investor update with information about a private offer for his "personal contacts" with a public link.
According to the "pitch" on the crowdfunding site Eureeca, Kazi plans to take the company from a £1.1m loss in year 2 through to £8m profit in just 5 years.
In the update he goes on to say that "We have a core team in place with 10 people and the team is growing as we speak, we are bringing so[SIC] big names and personalities on board, people who made things happen before, we will announce their identity as and when we seal the deal with them."
Funding will, of course, also come through revenue from the TV Programme and that's Kazi's to keep whether the crowdfunding works or not (if the required £500,000 is not raised the money is returned to investors) which lead one analyst to suggest this is more of a PR Stunt than a functional business.
Kazi insists that they "have everything lined up for 2017 launch and everything is running on schedule" but with just 2 months left of 2017, that target is looking unlikely. He also says that their long-haul ideals are still very much alive and they plan to be a global operator within 5 years.
The marketing material for the TV programme, "How to start an Airline" says: "The path to the skies is beset with difficulty, we follow the highs and lows of his journey trying to break into one of the most expensive industries in the world. Kazi is also under pressure to fulfil the demands of his faith and insists his new airline is compliant with the teachings of Islam, complete with modest dress for cabin crew and only Halal food to be served on board. Can Kazi make his dream a reality and get his beloved airline off the ground?"
No transmission date has been set at the time of publication.