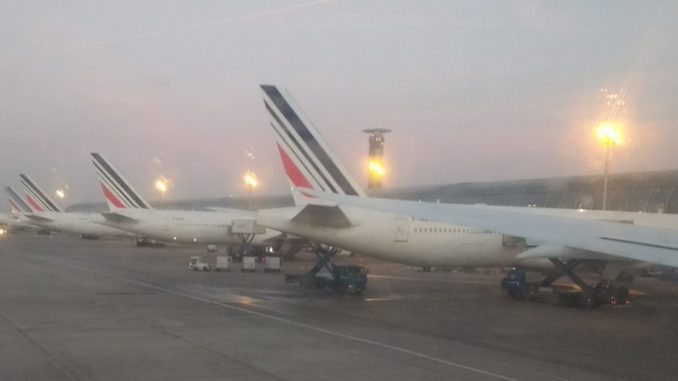 How to find out if your flight has been affected
Ongoing industrial action in France is causing severe delays to flights to France and across its airspace according to Eurocontrol.
Western and Southern France seems to be the worst affected areas with Bordeaux Airspace expecting an average delay of around 1hr 10 mins and around 40 mins for aircraft transiting Brest airspace.
Airlines have been asked to reduce flights into French Airspace by around 20%.
At the airports themselves, Toulouse is the worst affected with delays of up to 3 hours on departures and 2hrs 30 mins on arrivals.
In the capital, Paris Charles De Gaulle and Paris Orly are experiencing delays of up to an hour on departures while Paris Orly is also experiencing small delays on arrivals.
Other airports around the country are also seeing delays of around 30 mins to 1 hour.
The peak of delays is expected to be around 09:00UTC this morning and again around 17:00UTC this evening.
Most UK airlines are expected to cancel some flights to France and passengers are advised to check with their airline before travelling to the airport.
Ryanair said that "As a result of a national strike in France on Tuesday 10th December 2019, we have been forced to cancel a number of flights."
British Airways stated "Like all airlines, our operations to and from French airports and certain airports in Spain and Switzerland between Monday 9 December and Tuesday 10 December are likely to be affected by French Air Traffic Control industrial action which is due to take place. 
"Yet again industrial action in France will unfortunately cause unnecessary disruption for some of our customers travelling at this busy time. 
"We have had to cancel a number of flights but will be aiming to use larger aircraft where possible, on other services to help affected customers."
What is the status of my flight?
Easyjet – https://www.easyjet.com/en/flight-tracker
British Airways – https://www.britishairways.com/travel/flightstatus/public/en_gb/search/
Flybe – https://www.flybe.com/live-arrivals-and-departures
Ryanair – https://www.ryanair.com/gb/en/travel-updates/articles/nationalstrikefrance