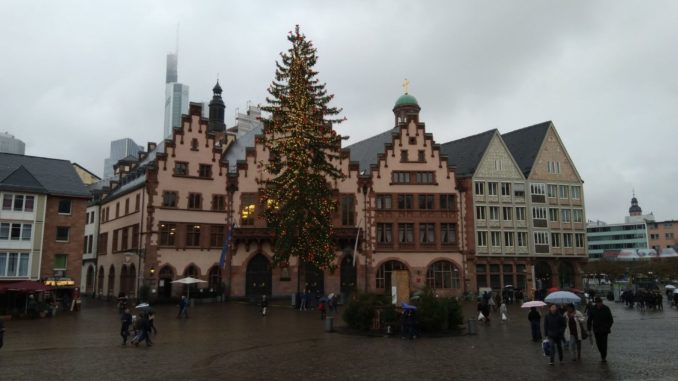 From medieval old town to modern skyscrapers, Frankfurt has it all.
The German city of Frankfurt sits on the Main river and apart from being a major financial hub, it is one of the most exciting cities I've visited in a long time.
Booking a few days away in any German city is never a bad thing but having never been to Frankfurt before it was a chance to experience something new and try to get into the heart of the city.
The purpose of the trip was actually a flight review about Ryanair so the trip started with a flight from Manchester to Frankfurt Am Main Airport (FRA/EDDF) before a short hop to the hotel for the trip, The Moxy at Frankfurt Airport. Now, if you have never stayed "At the Moxy" before then its something you really should. Moxy is a brand from Marriott aimed and young, trendy travellers such as myself, erm, OK, maybe that is a little bit of a push but even though that is what it is aimed at, it feels comfortable and welcoming to travellers of all ages. Its fun, great value and the in-room entertainment is awesome with the ability to cast your mobile and tablet to the TV!
Travelling from Frankfurt Airport (or the hotels) into Frankfurt is fast and convenient, S-Bahn trains costing just a few euros will take you directly to the Frankfurt's Hauptbahnhof , the main station, giving you access to the whole city and the Metro system.
Sitting on the Main river, the riverside area is a big draw for many. Unfortunately, in a cold and wet January, the river was at flood level so it didn't have the appeal it would normally have. It was still a lovely walk past the bridges though towards the real gem of Frankfurt, the area of Romerberg and its rebuilt Old Town area, or Altstadt. The most famous building there, of course, is The Romer, or City Hall. Its beautiful medieval styles hide the fact that you are surrounded by a modern metropolis.
There are some great places to eat in Romerberg too, The Sausage, Bread and Potato salad is by far and away the thing to have and costs around €5 washed down with a stein or two of beer of course.
The streets that lead off the Romerberg are filled with old buildings and churches which is unlike the rest of Frankfurt, which like many German cities suffered heavy devastation during World War II and is largely post 1950's architecture.
Further exploring out from the Romerberg you will come to the cities shopping areas. As well as the huge department stores and brand name shops you will find a plethora of markets. One to head for is the Kleinmarkthalle where you will find a buzzing vibrant evening scene with food and drink stalls inside selling meats, pasta, wine and coffee, much of which is available ready to eat making it a place where the locals congregate and socialise.
One of Frankfurt's most popular tourist attractions, and its highest is the Main Tower. The 787ft tall tower was built in 1970 and includes offices, a restaurant, gym and observation deck! Taking the speedy lift up is an experience in itself! Once at the top though you are welcomed by spectacular views of Frankfurt. Well, you normally are, it was wet and steeped in a low cloud when I went up. It was still an experience though and definitely worth visiting!
Frankfurt is one of those cities that is almost designed for city breaks. It has great places to eat, drink, shop and explore. Its history ranges from Medieval through to modern times and has something for everyone. It's definitely now one of my favourite European cities and I will be back, just not in January!
Oh, and if you do stay near Frankfurt airport, why not pop along to the Berlin Airlift memorial. It's about a 20 min walk from the airport and is a great memorial to those who kept West Berlin supplied when it was cut off by the Soviets.
You can fly to Frankfurt with the following airlines:
British Airways – London City, London Heathrow
Lufthansa – Birmingham, Edinburgh, Glasgow, London City, London Heathrow, Manchester,
Ryanair – Glasgow, London Stansted, Manchester