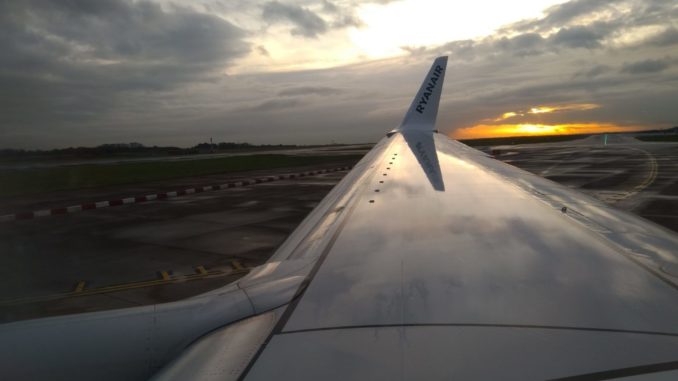 Every now and again you need to get somewhere cheap and when it comes to fares, rarely is anyone cheaper than Ryanair. But that cheap air fair comes at a cost right?
Given the choice I would go full-service every time, nothing beats slipping into that plush business class seat and relaxing with everything that the airline has to offer. Who wouldn't as, let's be honest, the middle bit of flying is pretty boring so anything you can do to make it more interesting is a win.
But when the flight is a short haul flight, does that matter so much? You aren't going to use that fold-flat bed on a flight from London to Paris and you certainly won't get more than 1 or 2 glass of bubbly down your neck. That's where low-cost airlines have carved out the niche that Willie Walsh once famously say didn't exist.
Of the low-cost airlines operating from the UK, Ryanair has arguably the worst reputation which was compounded last year when they caused misery for thousands by cancelling flights over the non-existent pilot crisis. A crisis that shook Ryanair up and has resulted in it entering talks with Unions.
But Ryanair CEO, Michael O'Leary has said Ryanair was getting nicer to its passengers, it was becoming cuddly and friendly and not just viewing passengers as self-loading cargo. So to find out if things really had changed I was sent off for a weekend in Frankfurt, Germany.
Was Ryanair the cheapest?
Based in Cardiff I explored flights from Cardiff, Bristol, Birmingham and Manchester. Cardiff (KLM) meant flying via Amsterdam and cost £200, Bristol (Easyjet) was the wrong days and would have cost £195, Birmingham (Lufthansa) was £210 and Manchester (Ryanair) £35.
So Manchester it was and Ryanair was booked, Which with Priority boarding and reserved extra-legroom seat was still less than £70 return.
What was the flight like then?
Ryanair uses Terminal 3 at Manchester and because I had checked in online I could head straight for security and settle down in the Lion & Antelope for a beer. The gate I needed was less than 50 yards from the pub and I could see the queue already forming. I looked at the app, smiled at priority boarding and ordered another beer.
The incoming aircraft arrived bang on time and soon boarding was being announced. It appears only around 10 people had booked priority boarding on this flight so I waltzed past the queue with ease and headed down the stairs towards the aircraft. The gate has an airbridge but to save costs, Ryanair chooses to use stairs which can be a pain with young children.
The outbound flight was one of Ryanair's older aircraft and the cabin was showing its age. The garish yellow headrests and blue is an assault on the eyes under the plain florescent lighting. My seat though was an emergency exit row with extra-legroom and a window. Hey, as I said, you have to make flying as interesting as possible so a view is a minimum!
Once airborne the sales pitch, sorry, I mean service gets underway with hot drinks & food being sold at your seat. After ordering a Jack Daniels & Coke €8.50 I settled back and tried to make myself comfortable. Being 6ft2″ the extra leg-room was great but the seat width meant I was rubbing shoulders with my seat buddy the whole flight whilst doing the armrest dance. You know the one where the second they move, your arm jumps on the armrest, the second you move yours, theirs moves in!
The flight itself was a nice late afternoon flight and we arrived in Frankfurt about 10 minutes early. Unfortunately, Ryanair cut costs at Frankfurt by operating from stands on the south side of the airfield which means you are bussed to and from the terminals which in an airport the size of Frankfurt Main is no quick task. Especially when the bus we boarded refused to close its doors leaving the driver rather frustrated. Granted, not Ryanair's fault but could have been avoided if they used a gate.
Thanks to priority boarding, all my bags were with me so there was no need to wait for baggage reclaim and I headed straight to passport control and off into Germany.
So flying with Ryanair was good then?
I am sure you are expecting some big catch here and for to me tell you it was awful but I have to admit, whilst in the past, I have tried to avoid Ryanair where possible my attitude has changed. The flight was on-time, was as good as any short-haul flight I had been on and if you can overlook the constant sales pitch (headphones are a must!) then its a normal, uneventful short haul flying experience and when it comes down to it, who needs more than that?
The only thing that went wrong was down to Frankfurt Airport, not Ryanair.
Flying with Ryanair is as safe and convenient as any other airline so next time you're off on a short trip stop and have a think, whats more important, getting there efficiently and at a reasonable price, or that reclining seat and free sparkling wine?
The next flight?