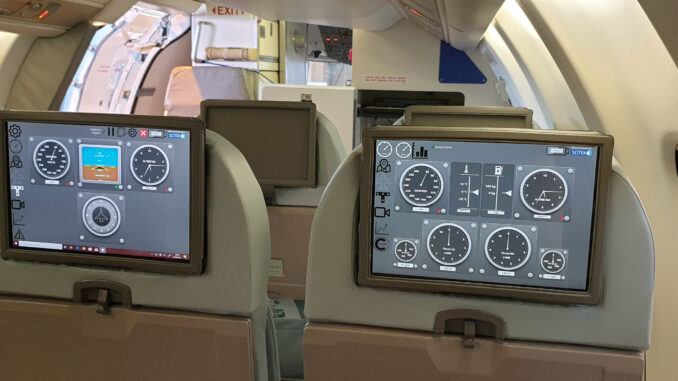 The UK's only flying classroom is now fully operational and ready to train the next generation of Aerospace Engineers.
Made possible thanks to the technical expertise of Starling Aerospace, the flying classroom will be operated by Cranfield University's National Flying Laboratory Centre (NFLC).
In order to build the flying classroom, Starling Aerospace had to modify and recertify every seat on NFLC's 35-seat Saab 340B.
The seats are now fitted for computer tablets and other equipment needed to help the engineers lean their skills whilst airborne.
Starling's co-founding director, Coralie Wigg, said: "Supporting Cranfield's training programme of future aerospace engineers has made this an exceptionally rewarding undertaking for Starling and one that required a complex array of technical challenges to be overcome, regarding bespoke design, parts manufacture and stringent re-certification. Our team of design engineers and fabricators rose to these challenges with great professionalism and we were very proud to have partnered with Cranfield in support of its endeavours."
Starling Aerospace carried out all the design and fabrication to make the modifications and get the seats certified.
Richard Jones, Aircraft Technical Manager, National Flying Laboratory Centre, added: "Starling Aerospace delivered a fantastic 'future proof' solution to accommodate the Microsoft Surface Pro tablets in the headrests of the Saab 340 cabin seats, for our flying classroom tutorials. We were equally impressed with the durability and finish of the synthetic leather together with high standard of workmanship achieved by the whole Starling team."