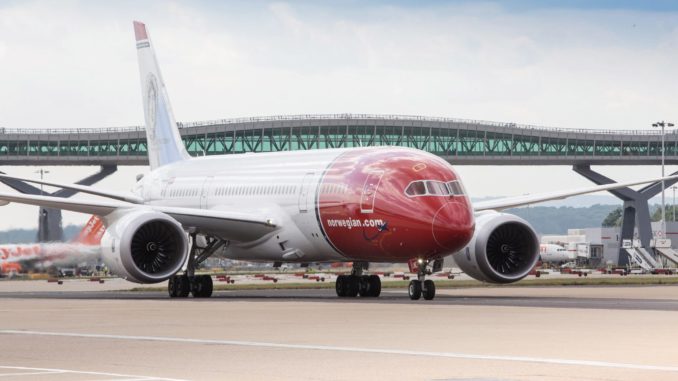 Norwegian.com is now offering travellers and aviation enthusiasts the "unique opportunity" to fly from the Arctic Circle to the Antarctic for less than £400!
The journey will begin in Svalbard, Norway and travel over 9,800 miles to Ushuaia, Argentina via London Gatwick.
Svalbard is located 650 miles from the North Pole and lies inside the arctic circle where it sees 24 hours of sunlight in the summer and almost continues darkness in the winter.
From Svalbard, passengers will fly to Oslo before conneting to to London Gatwick on a Boeing 737-800.
They will then transfer onto one of Norwegian's state of the art Boeing 787 Dreamliners for flight to Buenos Aires in Argentina.
Passengers will then have a day to explore the Argentinian capital as well as an overnight stay before joining the final leg of the journey from Buenos Aires' domestic airport Aeroparque to Ushuaia, the primary cruise gateway to Antarctica.
Matthew Wood, SVP Commercial at Norwegian said: "There are thrill-seeking travellers and aviation enthusiasts who would love the opportunity to travel from the Arctic Circle to the doorstep of Antarctica in the most simple and affordable way.
"Customers can enjoy free Wi-Fi at 35,000ft and a modern high-quality experience onboard our modern, environmentally friendly aircraft throughout the journey. This exciting routing is one example of how our extensive network allows passengers to easily connect between hubs and explore the world at the best fares no matter where they are located."
Total flight time will be around 25 hours and the total cost is £398.50 one way and are available from 21st September 2019.
The itinerary.
| Flight number | From | To | Departure | Arrival | Aircraft |
| --- | --- | --- | --- | --- | --- |
| DY 397 | Svalbard (LYR) | Oslo (OSL) | 1240 | 1535 | Boeing 737-800 |
| D82807 | Oslo (OSL) | London Gatwick (LGW) | 1845 | 2005 | Boeing 737-800 |
| DI7505 | London Gatwick (LGW) | Buenos Aires (EZE) | 2230 | 0810+1 | Boeing 787-9 Dreamliner |
| Depart Sunday |   |   |   |   |   |
| DN6120 | Buenos Aires (AEP) | Ushuaia (USH) | 1835 | 2215 | Boeing 737-800 |