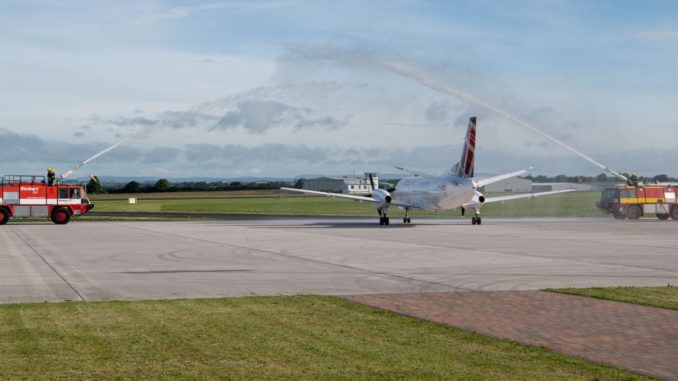 After at least two false starts, flights have finally got underway at Carlisle Lake District Airport today for the first time in 25 years.
The airport, which is owned by the Stobart Group, will see flights to Dublin, London Southend and Belfast operated by Loganair (LM/LOG).
It is hoped that the airport will open up the Lake District for passengers and as such has received funding for the Cumbria Local Enterprise Partnership.
The airport was due to open last year but suffered last-minute delays due to the infrastructure not being ready in time.
Kate Willard, Director of Partnership Development for Stobart Group, said: "We are made up to see this amazing project launch today. Not only is this airport a significant new part of the Northern Powerhouse's transport infrastructure – it is also a shining beacon of confidence and pride for Cumbria, Carlisle, the wider Lake District region and the Borderlands.
"I would also like to pay tribute to our passionate and amazing workers and thank all of those many individuals, organizations and businesses – including our partner Local Authorities and the Cumbria LEP – who have held our hands through this long journey. Thank you."
Jonathan Hinkles, managing director at Loganair, said: "This is an historic day for both Loganair and Carlisle Lake District Airport as the first commercial air services for 26 years take to the skies.
"These three routes will be a complete game-changer for the region's connectivity with London and Ireland – extremely beneficial for the business community and highly convenient for tourists booking breaks to the Lake District.
"Congratulations to everyone for working so hard to make this possible. We're very much looking forward to welcoming the first customers onboard."