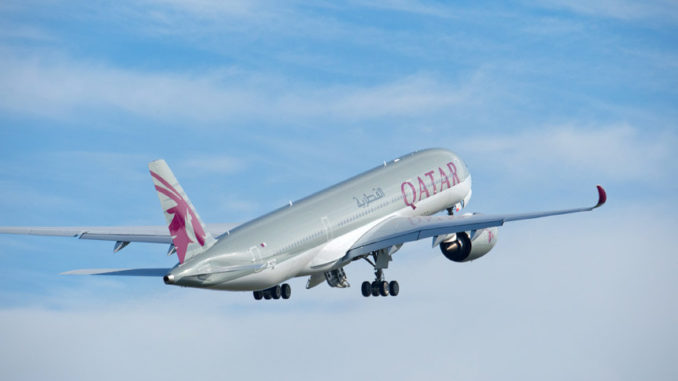 It could be an A350-900 or A350-1000
Qatar Airways will use an Airbus A350 on the first Doha – Cardiff – Doha flight according to Senior Vice President of Marketing and Corporate Communications.
In a tweet on Sunday, Salaman Al Shawa said: "What could be more inspiring than listening to whispering of the waves in the 'Music City'? #Cardiff joins @qatarairways global network on May 1st with a one-off flight with our @Airbus #A350"
Having an A350 operate the first route will be a great hat tip to Wales as the wings for the Airbus twin-jet are made in Broughton, North Wales.
Qatar Airways Group Chief Executive, His Excellency Mr. Akbar Al Baker said: "The launch of our new service to Cardiff is a major milestone for Qatar Airways. It makes sense that the inaugural flight that welcomes Qatar Airways to Wales is on the A350-900, as the wings of this very plane are built at the Airbus plant in Broughton, North Wales. The new service will connect the Welsh people with more destinations globally and provide them the opportunity to experience our unparalleled five-star service. We look forward to welcoming our new passengers on board and to connecting them to Doha and points beyond."
Qatar Airways operate both the A350-900 and A350-1000, it's was the launch customer for the -1000 variant,  but the airline has confirmed it will be an A350-900 that operates the first flight.
Airbus brought the A350-1000 to Cardiff Airport recently to undertake hot fuel trials, it was the first time An A350-1000 had landed in the UK.
The first Doha – Cardiff flight arrives at Cardiff Airport (CWL/EGFF) on 1st May around midday.