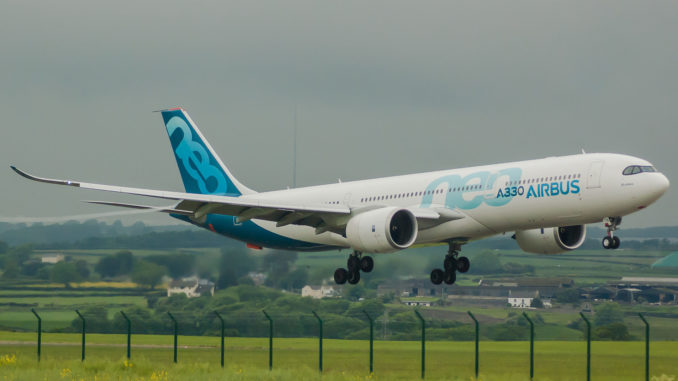 Airbus latest variant of the A330 makes first visit to UK
Airbus' latest variant of the popular A330 family, the A330-900neo, has touched down at Cardiff Airport, Wales ahead of fuel tests tomorrow.
The A330-900neo or new engine option is improved version of Airbus' popular twin-engined wide-bodied jet. It is powered exclusively by Rolls-Royce Trent 7000 engines.
The wings are made in Broughton, North Wales and feature significant improvements over the older -200 & -300 variants of the type including a new blended composite sharklet.
The new engines and aerodynamic enhancements help to give the aircraft over 400 miles of extra range and a significantly lower fuel burn and maintenance costs compared to the older models.
The A330neo is also the first aircraft to be fitted with Airbus' new Airspace cabin.  Airbus says that Airspace will provide a comfortable environment for passengers that offers more space everywhere – with wide seats, a beautifully lit cabin and the latest generation in-flight entertainment.
The test aircraft, F-WTTN, will undergo hot fuel trials at Cardiff Airport together with engineers from Airbus' facility at Filton, Bristol.
The trials are designed to simulate engine and aircraft performance when fuel temperature is excessive and if previous trials are a guide, will involve several test flights around the Bristol Channel and the Irish Sea.
Airbus has previously brought other aircraft to Cardiff Airport for hot fuel tests including the A350-1000.
The launch customer for the type is TAP Air Portugal which expects to take delivery in Q3 of 2018.
Other operators who have placed orders include WOW air and Hi-Fly.
It is thought to be the first time an A330neo has visited the UK.