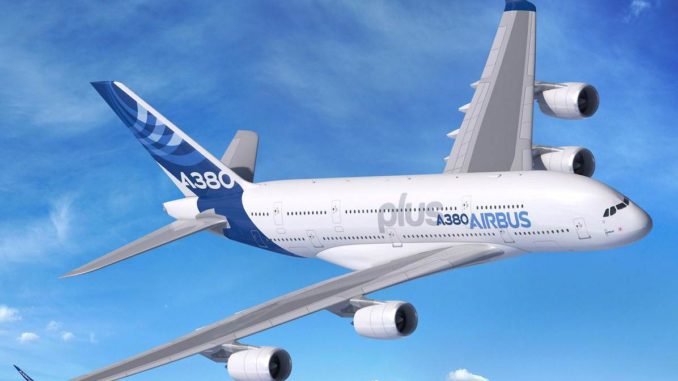 In a bid to halt the stagnant sales of the Airbus A380, Airbus have announced the A380plus, an upgraded version of the super-jumbo which entered service in 2007.
The Airbus A380, who's wings are made at the Airbus UK site at Broughton, North Wales has seen declining sales and cancelled orders in recent years with no new orders for the type since 2015. The Toulouse-based airframer has halved production of the current aircraft.
The A380plus, announced at the Paris Airshow, is a development study being carried out by Airbus which wants to revamp the current model with an improved economy of up to 4% over the current model thanks to scimitar-style winglets (first seen on Boeing's latest 737 models).
The winglets measure approximately 4.7 metres in height.
Airbus also plans to optimise the cabin layout based on the 'cabin enablers' presented at Aircraft Interiors Expo which will allow up to 80 additional seats to be installed and a new 9-abreast seat configuration in premium economy and 11-abreast in economy.
The A380plus will have an increased maximum take-off weight (MTOW) of 578 tonnes providing the flexibility of carrying up to 80 more passengers to its current range or flying 300nm further than the current range with the current passenger capacity.
Other improvements planned are longer maintenance check intervals and a reduced six-year check downtime to reduce maintenance costs and increase aircraft availability.
Airbus retro-fitted the new winglets onto recently retired test aircraft F-WWDD (MSN004) which now resides at the Museum of Air & Space at Le Bourget.
The largest A380 operator Emirates (EK/UAE) )has given the project a luke-warm reception. The Dubai-based airline is reluctant to place an order until there is more clarity around the future of the programme including whether any retro-fit options would be available for their current fleet of A380's.
Emirates is about to take delivery of its 100th A380 but has put some future deliveries on hold.
John Leahy, Airbus COO Customers, said: "The A380plus is an efficient way to offer even better economics and improved operational performance at the same time." adding  "It is a new step for our iconic aircraft to best serve worldwide fast-growing traffic and the evolving needs of the A380 customers. The A380 is well-proven as the solution to increasing congestion at large airports, and in offering a unique, passenger-preferred experience. "
With the limited range of airports available to A380 operations, whether the A380plus becomes a reality or just a study will be down to the airlines like Emirates & Etihad and whether they see the model makes enough financial sense to invest in more super-jumbo's, a tough ask when the industry has recently moved away from bigger aircraft.
If the A380plus does go ahead, it will give huge jobs boost to Airbus Broughton and be very welcome news to the region after the recent closure of Marshall Aviation.