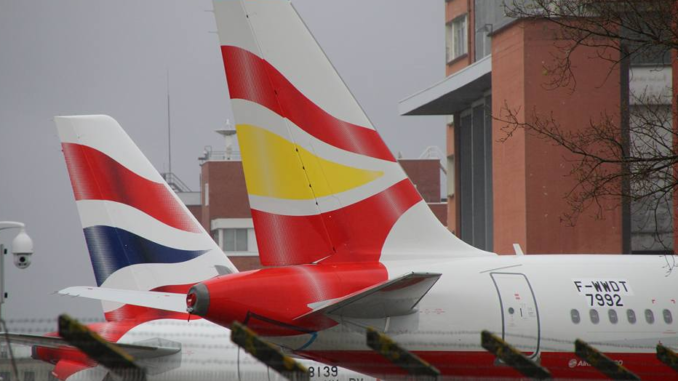 BA ditches the blue to match sister airline Iberia
A keen eye from a photographer camped out at Airbus, Toulouse has caught sight of British Airways' new livery when their latest A320 was left parked in plain sight.
The move to the new livery sees the airline keep its "Union Flag" design but takes on the Red and Yellow of fellow IAG Group airlines, Iberia and Iberia Express.
International Airlines Group (IAG) chairman for former British Airways CEO, Willie Walsh is understood to want to standardise IAG group airlines into the new Red & Yellow scheme with the tail taking on a representation of the airlines country of origin.
As a result, BA keeps the Union Flag and it is understood that the Spanish airlines could include a Bull in their tail logo.
Other airlines that have undergone rebranding recently include Lufthansa and Air Canada, both of which were deemed controversial initially, before being widely accepted.
Norwich based brand specialists, Bunkum & Co said that "bringing multiple divisions of a company within the same colour scheme is not unusual, people tend to recognise shapes more than colours. By keeping the tail design its unlikely that most people will notice"
One aviation enthusiast we spoke to said "I like it, it will bring some colour to Heathrow's Terminal 5 which is otherwise mainly dark blue. I can't wait to get some photos, I think it will look great on the A350!"
British Airways were not available for comment this morning.
(Image: Paul Tomson)
Update: 12:01pm. Did you fall for our April fool? Congrats if you didn't! The picture is actually of a Lucky Air aircraft, which is scarily similar to the BA logo!