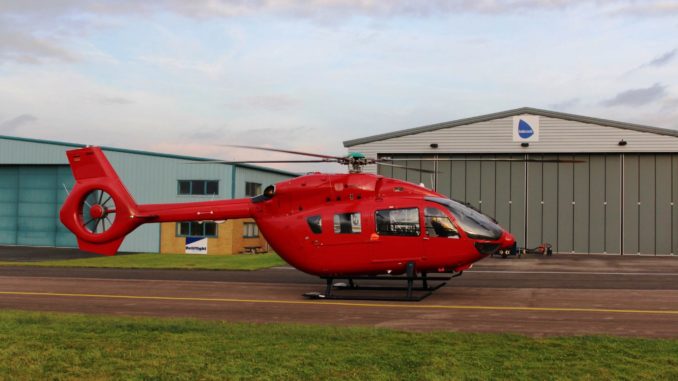 The first of 3 new helicopters for Wales Air Ambulance (WAAC) has arrived at Gloucestershire Airport.
The brand new Airbus H145 helicopter is a flexible platform which has been designed to provide a large cabin with the performance needed to operate critical missions. It uses 2 Turbomeca Arriel Turboshaft engines to achieve a cruise speed of 153mph and a range of 530nm. This performance allows Wales Air Ambulance to enhance their response times and coverage across Wales and increase night-time operations.
Angela Hughes, chief executive of the Wales Air Ambulance Charity, said: "It is fantastic to see work on our new fleet progressing like this. This new model will be a key part in ensuring we provide one of the most modern HEMS services in Europe for many years to come.
"The new models represent a significant upgrade on our current fleet. They will be equipped for night flights and help take us a step closer to our goal of providing a 24-hour air ambulance service.
"In addition, the new aircraft will have a larger cabin allowing for more room for treatments in-flight, as well as more powerful engines, which means they can fly for longer without refuelling.
"We've been able to secure this upgrade thanks to the amazing support of the Welsh public. And we need their continued help to keep the new helicopters in the air."
The Aircraft, which arrived from Germany, is provided by Babcock who will also operate and  carry out maintenance the aircraft and Wales Air Ambulance will be only the 3rd Helicopter Emergency Medical Service (HEMS) in the UK top have them.
Babcock managing director, Tim Shattock, said:  "We are working closely with the Wales Air Ambulance Charity to provide them with one of the world's most advanced fleet of air ambulances.
"As well as a full on-board medical suite the aircraft will be designed with the specialist technologies to equip it for night flights. It will also be fitted with an on-board high-speed encrypted internet connection allowing the air ambulance crew to send critical information about patients to medics waiting at hospitals."
The 3 new helicopters will operate from the bases in Welshpool, Caernarfon and Llanelli.  The fourth helicopter, which is the dedicated children's aircraft for neo-natal transfers, will remain an EC135.