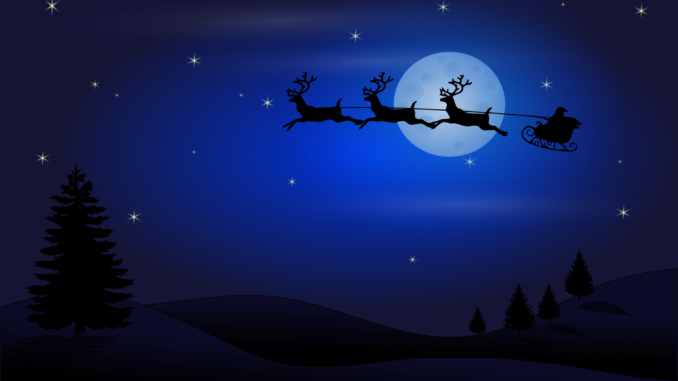 With just 1 week to go until Christmas day, final checks are well underway for a special Xmas eve flight which will see SANTA 1 take flight once again.
The annual flight departs the North Pole on the 24th December and completes a global journey taking in every village, town, city and country along the way.
National Air Traffic Services (NATS) has received a flight plan from ElfOps confirming the route through UK airspace which will see the reindeer-powered Sleigh visit the length and breadth of Britain on Christmas Eve. Although a spokesperson for NATS said they were checking it twice.
North American Aerospace Defense Command (NORAD) will once again be providing global tracking services to Santa 1 which allow boys and girls across the globe to follow Santas progress, and ensure they are soundly asleep as the sleigh approaches.
Santa 1 is expected to enter UK airspace via the Dover VOR (DVR) before exiting for the Isle of Man and Northern Ireland.
Cardiff Radar will, of course, be providing a basic service throughout Santa 1's time in Wales as it takes advantage of its special approval to fly below 1500ft around the cities and towns.
Once the flight, which is estimated to be 317 million miles in length, is complete the sleigh will return to the North Pole where it expected to fly a special temporary procedure back into North Pole Village.
Santa Facts
Journey Length 317,000,000 Miles
Taking into account time zones, Santa has 32hours to complete his journey
 The speed required is approximately 1,800 miles per second, which requires maximum magic dust load
Special NOTAM