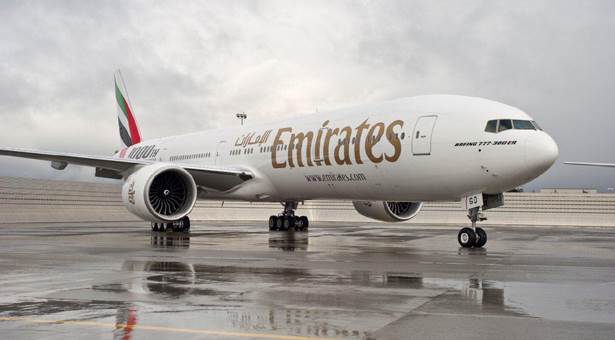 UAE Flights from Edinburgh will switch from Abu Dhabi to Dubai
Dubai based Emirates has announced it is to begin a daily service to Dubai (DXB/OMDB) from 1st October 2018.
The move comes as Emirates' Abu Dhabi based rival Etihad prepares to leave the Scottish capital's airport.
Etihad (EY/ETD) ends operations at Edinburgh (EDI/EGPH) on the 30th September so there will be minimal impact for passengers wishing to visit the United Arab Emirates (UAE) or connect onward via the UAE.
Gordon Dewar, Chief Executive of Edinburgh Airport said: "This is a fantastic announcement as we welcome another world-renowned airline to Scotland's busiest airport – a clear statement that Edinburgh Airport is the gateway to Scotland.
"The route enhances our connectivity to the Middle East and further afield as we access that long-haul network, giving us greater access and choice than ever before. It also backfills the departure of Etihad even before that service ceases.
"The service caters for leisure and business passengers, providing daily links for international tourism and trade opportunities both inbound and outbound and will help our growth and international standing as a world-class hub.
"We're delighted to welcome Emirates on-board and further expand our international choice for the 13.4 million passengers who use Edinburgh Airport every year, and we look forward to working with Emirates to provide a top-class service for passengers and ensure the success of this Edinburgh to Dubai route."
Emirates (EK/UAE) will operate the daily service with a Boeing 777-300 aircraft capable of carrying over 400 passengers. The Flight into Edinburgh arrives at 14:50 and departs at 20:15. It arrives in Dubai the following morning at 06:50.
Hubert Frach, Emirates' Divisional Senior Vice President, Commercial Operations, West, said: "We're increasing our capacity to Scotland to meet growing demand, and by introducing a daily flight to Edinburgh, it will complement our current double daily flights between Dubai and Glasgow. Edinburgh is a very popular leisure and business destination, and the new service will offer our customers from across our global network, particularly from key inbound markets such as Asia and Australia, a direct option to the city via our Dubai hub.
"It will also be a more convenient point for travellers from the greater Edinburgh area, and beyond, such as Aberdeen and Dundee, to travel with Emirates to Dubai and onward to destinations across our network."