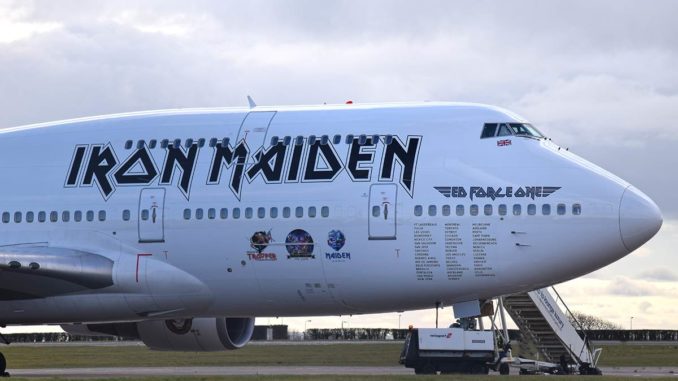 Iron Maidens Ed Force One jet has been involved in an incident in Chile which has left two ground crew injured and two of its engines severely damaged.
The aircraft which left Cardiff Airport in February to start the tour was in collision with a ground vehicle which left its engines severely damaged and the ground vehicle destroyed.
Iron Maiden said on their web site "On moving  the steering pin that is part of the mechanism that connects the ground tug to the aircraft  seemingly fell out. On making a turn the aircraft had no steering and collided with the ground tug badly damaging the undercarriage, two of the aircrafts engines and  injuring two ground tug operators, both of whom have been taken to hospital."
It has been confirmed that two Chilean ground crew were taken to hospital after the incident but both are expected to make a full recovery.
A tweet from MQLTV shows the scene just after the impact.
Avión de Iron Maiden tuvo un accidente en aeropuerto de Santiago https://t.co/9PTBZ7ZkvE pic.twitter.com/TcFs1YjDaE

— MQLTV (@MQLTV) March 12, 2016

Twitter User Ignacio Molina sent us these pictures of the incident
The aircraft, Air Atlanta 747-400 TF-AAK is unlikely to be leaving Chile anytime soon however Iron Maiden have said they do not expect it to affect their concert schedule.
Following the incident, and investigation has been launched by Chile's Departamento Prevención de Accidentes.