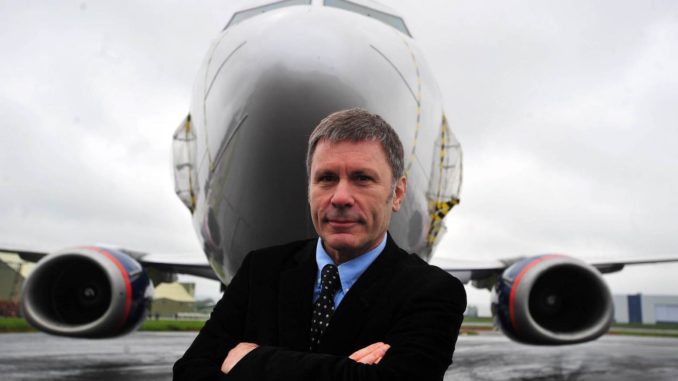 Bruce Dickinson secures a 5 year deal for TUI repairs
St Athan-based Maintenance, Repair and Overhaul (MRO) provider Cardiff Aviation Ltd has reportedly agreed a 5 year deal with TUI Airways UK.
According to sources close to the company, the deal with TUI Airways will see Cardiff Aviation carry out non-routine maintenance on its Boeing 737 and Boeing 767 fleet. This can include work such as skin repairs and engine changes.
2018 has already seen a number of TUI aircraft come through the twin-peaks hangar at St Athan as they returned from their winter lease program. Cardiff Aviation carried out "return from lease" checks on the aircraft and carried out any repairs that were needed.
UK holiday airline TUI Airways UK leases a number of aircraft out during winter months to other airlines including Sunwing of Canada and they all need to be checked and brought back to TUI standard on return.
The contract is the first significant work that Bruce Dickinson's firm has attracted since operations began at Twin Peaks in 2013 and the company, which was partly funded by the Welsh Government, came under the spotlight in 2017 when it emerged that the company hadn't paid rent at the facility and were thousands of pounds in arrears, an amount the Welsh Government subsequently wrote off.
The news of a 5-year contract will come as a relief to the staff that remain at the St Athan site, many of whom have had years of uncertainty, pay cuts and the threats of redundancies. Cardiff Aviation Limited will be hoping it will lead to more contracts, especially as the ILS system at St Athan is now fully operational, something Mr Dickinson claimed was costing his company millions.
It is unlikely though that a small contract for repairs alone will secure the future of Cardiff Aviation and it is understood that Mr Dickinson is still seeking a cash injection from an outside investor to drive the company forward. But it will certainly be a welcome sight for the Welsh government who have invested millions of taxpayers money into the business.
Cardiff Aviation declined to comment on nature of the contract which they announced on Linked In, while a spokesperson for TUI said they don't comment on releases from third-parties. Both responses cast doubt over any significant value on the contract.
In contrast, the MRO's sister company Cardiff Aviation Training Limited has been flourishing at Cardiff Airport. The simulator training centre has been carrying out training for airlines including Air Atlanta Icelandic and Flybe. The centre has two Boeing 747-400 Simulators along with one of only two Sikorsky S61 Helicopter Simulators in Europe.