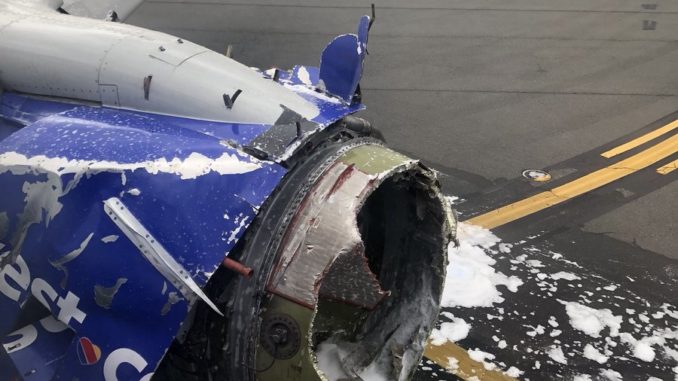 Passengers reported injuries from debris in cabin
One Passenger has died and several were injured onboard a Southwest Airlines Boeing 737 when one of its engined exploded in mid-air.
The flight, Southwest 1380 from New York to Dallas diverted to Philadelphia after an uncontained engine failure of the no1 engine pierced the cabin with debris. At least one window was broken in the incident.
According to passengers said that a woman was nearly sucked out of the aircraft but passengers were able to pull her back in.
Local sources named the passenger as Jennifer Riordan, a mother-of-two and bank vice-president at Wells Fargo in Albuquerque, New Mexico.
Todd Baur, the father of a passenger, told local Philadelphia news station NBC10:"One passenger, a woman, was partially […] was drawn out towards the out of the plane [..] was pulled back in by other passengers,"  –
Pictures from passengers showed extensive damage to the compressor area of the CFM56 engine along with a missing window on the aircraft, a Boeing 737-300.
In a release of the Air Traffic Control recording, pilot Tammie Jo Shults is heard saying: "We have a part of the aircraft missing, so we're going to need to slow down a bit."
The controller asked if the plane is on fire, to which she replied no, but adds: "They said there is a hole and someone went out."
The National Transportation Safety Board (NTSB) said it is investigating the incident.
After initially confirming the incident, A spokesperson for Southwest Airlines said: "We are deeply saddened to confirm that there is one fatality resulting from this accident. The entire Southwest Airlines Family is devastated and extends its deepest, heartfelt sympathy to the Customers, employees, family members and loved ones affected by this tragic event. We have activated our emergency response team and are deploying every resource to support those affected by this tragedy. For a message from Gary Kelly, Southwest Chairman and Chief Executive Officer, please click here.
The aircraft involved today was a Boeing 737-700 (N772SW) and was en route from New York LaGuardia (LGA) to Dallas Love Field (DAL). In total, the flight had 144 Customers and five Southwest Crewmembers onboard.  We extend our heartfelt appreciation to the Southwest Pilots and Flight Attendants who acted professionally and swiftly to take care of our Customers during the emergency diversion and landing.
Finally, Southwest Airlines officials are in direct contact with the National Transportation Safety Board (NTSB) and the Federal Aviation Administration (FAA) to support an immediate, coordinated response to this accident. Southwest is in the process of gathering additional information regarding flight 1380 and will fully cooperate in an investigative process."
If this ends up being the opening scene to Final Destination 13, I'm going to be really salty. #Flight1380pic.twitter.com/feK7cPZS70
— Matt Tranchin (@mtranchin) April 17, 2018
The incident is almost a carbon copy of one in 2016 which involved another Southwest Airlines Boeing 737-700 with CFM56 engines. On the 27th August 2016, Southwest Airlines flight 3472 from New Orleans to Orlando suffered what the NTSB called an uncontained engine failure.
A blade broke off the compressor fan causing the inlet cowling to separate from the engine which, in turn, resulted in debris hitting the fuselage and wing root.  A 5 x 16-inch hole was made in the fuselage causing the cabin to depressurise.
On that occasion, the flight diverted to safely to Florida and no one onboard was injured.
The formal findings of that incident haven't yet been released although the NTSB has released investigation updates. https://www.ntsb.gov/news/press-releases/Pages/PR20160912.aspx