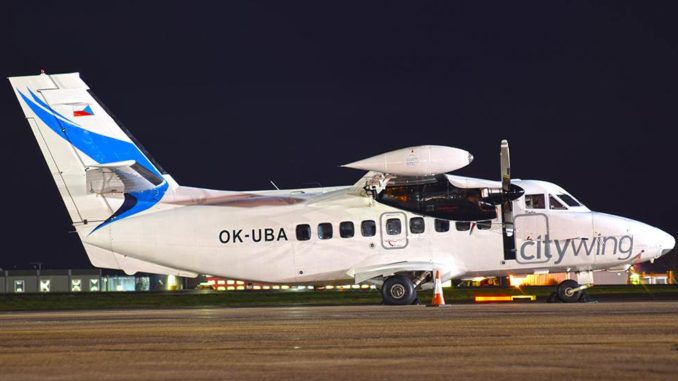 The UK's Civil Aviation Authority (CAA) has confirmed it has suspended the air operators certificate (AOC) for Van Air Europe but the airline will be investigated by Czech Authorities following an incident last week.
Van Air Europe operate for Isle of Man based "Virtual" Airline Citywing however flights have been suspended since the Isle of Man to Belfast flight was ordered to stop and shutdown on the runway last week.
The Citywing operated service from Cardiff Airport to Anglesey is currently being operated by North Flying.
It is understood that the incident relates to flying in unsafe weather conditions with reports that the flight "bounced a landing" in Belfast before going around, a procedure carried out when an approach would be unsafe to continue. One post on Citywings facebook page by someone who claimed to be on the flight said "If you were on the plane you'd understand why they are grounded now, the full truth about from Thursday belfast flight hasn't come out yet. Shouldn't have taken of and wasn't allowed to land in belfast despite being 2 foot off the runway in belfast."
Winds were high at both airports due to Storm Doris sweeping across the UK with winds on the Isle of Man of 42kts (48mph) gusting 56knots (65mph) at the time. One source claimed that the aircraft landed at the Isle of Man in a "strong" headwind but it would have been unsafe to taxi due to the wind being across the aircraft.
The winds reportedly increased as the aircraft landed and as a result the aircraft "jumped" due to lift created by the same high winds. Two fire engines were subsequently places in front of the aircraft to "spoil" the airflow.
A professional pilot we spoke to said "the decision to fly ultimately rests with the crew following advice on weather from the air traffic control and going through flight planning procedures"
This is the 2nd time that the Intra-Wales air link operator has had its Air Operators Certificate suspended over safety concerns. Links Air were withdrawn from the service for that reason in 2015 and Citywing stepped in to take over the service.
Citywing are continuing to charter aircraft to cover their commitments to routes. Passengers are urged to check with Citywing before flying.