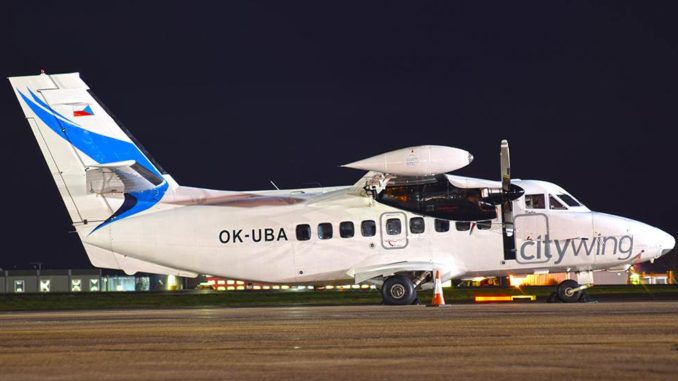 The Intra-Wales Cardiff to Anglesey route has been left with no operator as "virtual airline" Citywing called in the administrator on Friday.
Isle of Man based Citywing took the decision to liquidate the company after Czech based Van Air Europe lost permission to fly in the UK. In the statement Citywing said "It is therefore with much sadness and deep regret that the Directors of Citywing Aviation Services Limited have had to take the difficult decision to close the company today and put the company into liquidation. This decision has not been taken lightly and has been made to protect creditors."
Van Air Europe were grounded by the Civil Aviation Authority (CAA) on the 24th February 2017 after one of its flights allegedly flew in unsafe conditions and put passenger safety at risk. Citywing has been using other operators including Titan & North Flying to meet its obligations however in the statement released yesterday it said that they had found it "difficult to source suitable viable aircraft to fulfil our contracts." adding "The company has tried to offer a service whilst suffering considerable losses but these have proved unfortunately to be commercially unsustainable."
This is the 2nd time in 3 years that the Intra-Wales route has suffered the collapse of its operator. Citywing stepped in following Links Air being suspended by the CAA for safety concerns and subsequently folding. The main difference between the two was that Links Air owned and operated the aircraft where as Citywing only sold tickets and the routes were operated by Van Air Europe.
The future of the Intra-Wales route, a publicly subsidised route between North and South Wales, remains unknown as the Welsh Government seek to find another operator. The route is used by around 9,000 passengers and cuts up to 4 hours off the travel time from North to South Wales.
Referring to the Intra-Wales route Citywing said: "we have been advised that your Citywing tickets will be valid on train services out of Cardiff, and from stations between Bangor and Holyhead."
After advising passengers not to turn up for flights it ended the statement saying "On behalf of all at Citywing, we all apologise for the inconvenience caused and thank you all for your support over the last 4 years."
Read More:

Citywing brings in contractor as CAA grounds Van Air Europe