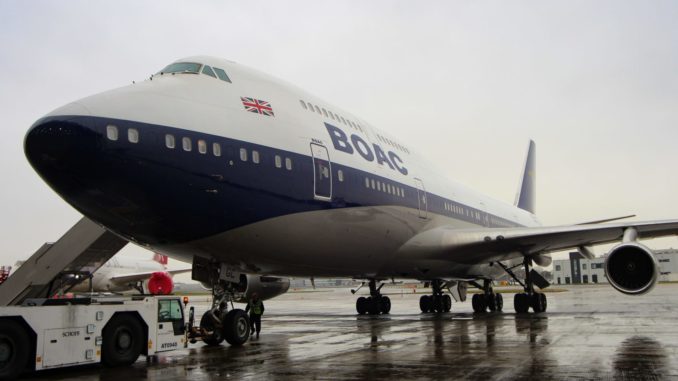 British Airways (BA/BAW) has issued an HR-1 notice to staff in all areas of the airline warning them that there is a risk of redundancy according to an email to Unite Members.
British Airways CEO Alex Cruz met with representatives from Unite including Assistant General Secretary Diane Holland and National Office for Aviation, Oliver Richardson today and delivered a "stark message".
British Airways expects to reduce its flying programme by 75% and the Union told its members that "it is obvious that the resulting impact upon staff will be significant".
The email goes on to say that Unites task is to "mitigate" that risk of redundancy.
Unite adds that its job is to "avoid or reduce job losses" but that that time is critical. It tells members that "these measures will be needed within days, not weeks or months".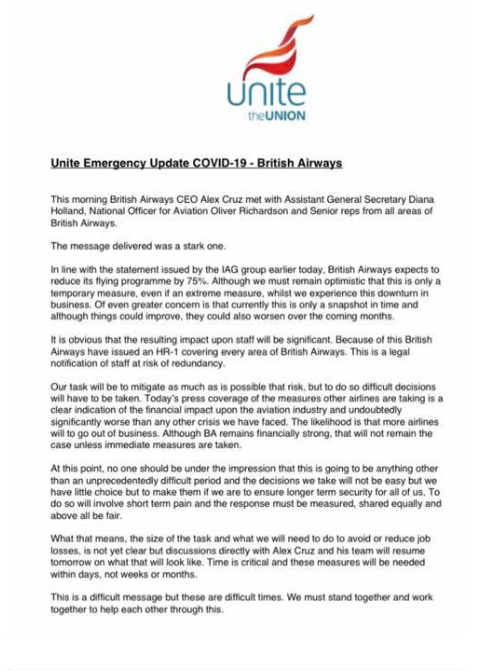 British Airways rival Virgin Atlantic (VS/VIR) has also cut its flying programme by 80% and today asked staff to take 2 months unpaid leave.
Elsewhere, Ryanair and Easyjet are grounding large swathes of their fleet and Norwegian.com has temporarily laid off 7,500 staff members after cancelling 4000 flights.
Travel restrictions because of the Coronavirus (COVID-19) have affected airlines across the globe and have been coupled with a massive fall-off in demand leaving airlines in uncharted territory.
Virgin Atlantic has written to the Government asking it to support the UK aviation industry to the tune of £7.5bn to prevent airlines collapsing during the pandemic.