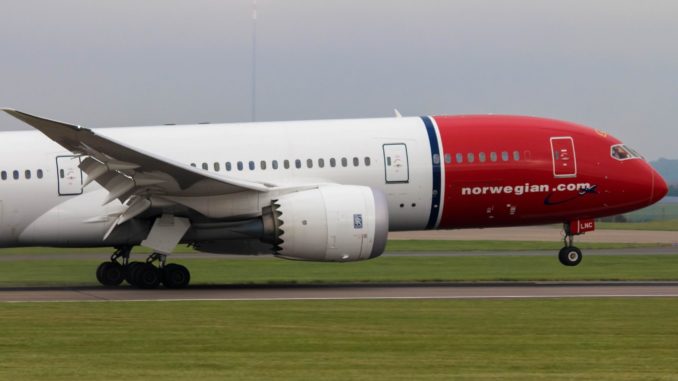 When Norwegian's LN-LNG departed back to Oslo yesterday it marked the completion of a maintenance round for 7 Norwegian Long Haul (DU/NLH) Boeing 787-8 Dreamliner aircraft carried out by British Airways Maintenance Cardiff (BAMC).
BAMC is an official Boeing maintenance partner which demonstrates the high standard of work carried out there and the work on the 7 Dreamliners was carried out under Boeings GoldCare program. GoldCare is an integrated service that brings together essential support and solutions from the Boeing Edge portfolio to manage the materials, engineering and maintenance of an airline's fleet. It was a program set up when the 787 was launched.
British Airways Maintenance Cardiff was set up in 1993 to service & maintain British Airways (BA/BAW) fleet of Boeing 747 aircraft. It's purpose built 3-bay hangar at Cardiff Airport has since gone on to service BA's fleet of Boeing 777, 767 and 787 Dreamliner. There are currently over 650 people employed at the Vale of Glamorgan site.
The work for Boeing's GoldCare program makes use of available capacity at the facility and is in addition to their work for their parent company, BA.
Speaking previously about GoldCare, British Airways Director of Engineering Gary Copeland said: "The global MRO industry is more vibrant than it has ever been. We believe that close working relationships with leading aviation companies such as Boeing will be key to long term success in this market, and we are therefore thrilled to become an official service partner to its GoldCare customers. British Airways Engineering has extensive experience maintaining a diverse fleet of over 260 aircraft and supports a broad customer base. We believe that this experience, coupled with our truly global capabilities, will prove a great asset to Boeing GoldCare."
The Boeing 787 Dreamliner is Boeing's latest aircraft and the first to feature composites as the primary material for construction making it lighter, stronger and more efficient than the previous aircraft in its class.
One of the benefits of its construction is that the cabin can be operated at a much lower pressure than conventional aluminium aircraft making it much more comfortable for the passenger and reducing the effects of jet-lag on long-haul journeys. It also allows the cabin to benefit from bigger windows than a conventional airliner.
Norwegian Long Haul currently operates 8 Boeing 787-8 aircraft (all of which have now been through BAMC) and 3 Boeing 787-9 aircraft. BAMC's parent BA operates Boeing 787-8 and 16 Boeing 787-9 aircraft.