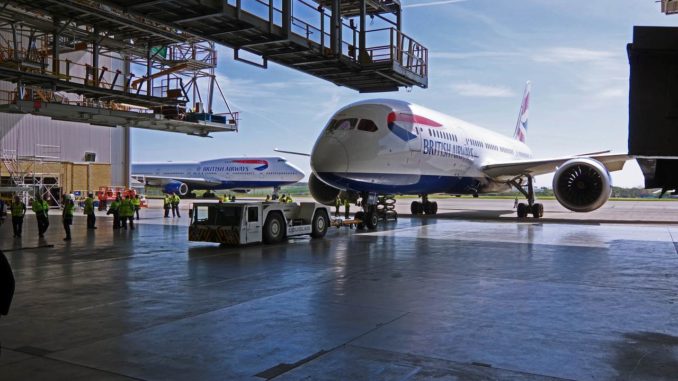 British Airways (BA/BAW) has announced that it is to welcome 1000 students into the company for Work Experience Month 2017.
The airline says that students will get to experience the airline's world-class facilities and speak to colleagues at its engineering bases at Heathrow, Cardiff and Glasgow, along with its Global Learning Academy training centre.
The students will meet and learn from the carrier's professional operations teams at its Heathrow Terminal 5 operation, including customer service staff, turnaround managers and baggage, loading and cargo specialists.
Giving students experience of the aviation industry is part of British Airways' commitment to encouraging the next generation of talent – both male and female – in operational areas, as well as customer service and head office positions, and its leading role in the work experience month has helped many people gain a career in aviation, including on the airline's extensive apprenticeships and graduate schemes.
British Airways says that the continuing campaign to encourage more female applicants to pilot and engineering roles sees current female flight crew attend schools, colleges and recruitment events throughout the year.
British Airways chief executive, Alex Cruz, said: "This is a fantastic opportunity for any young person with an interest in aviation and we're extremely proud to be supporting the initiative.
"We strongly believe in inspiring future talent and we're privileged to be able to share our decades of experience and modern facilities with students from across the UK.
"The travel industry has a huge amount to offer and we hope that this will be a first step in encouraging tomorrow's leading aviation professionals, including flying crew, customer service colleagues and engineers."
British Airways engineering apprentice, Max Rann, who went to the airline's work experience programme when he was at school, said: "As I was still at school I had never had any experience of the world of work.
"The work experience programme was a fantastic opportunity to gain an insight on how a major airline maintains its aircraft fleet. The time I spent at British Airways was so inspiring that it led to me applying for the British Airways Engineering Apprentice programme."
For more information about Work Experience visit http://www.fairtrain.org/home