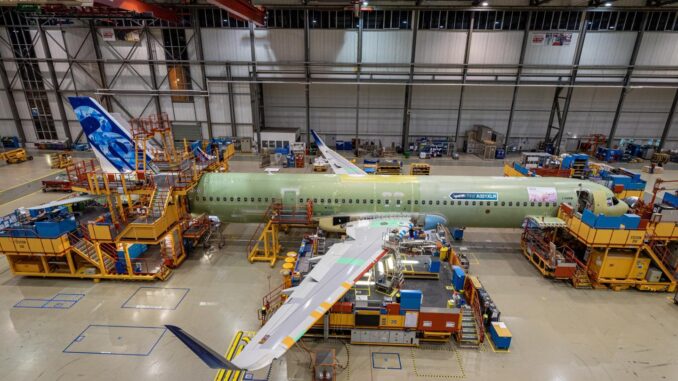 European airframer Airbus is preparing the first Airbus A321XLR aircraft for its first flight which is expected to take place on Wednesday 15th June.
Depending on the weather, the aircraft, which carries the serial number MSN1100, is expected to perform its first test flight from Hamburg-Finkenwerder Airport where the final assembly line is. Amongst other parts, its groundbreaking wings were built in Broughton, North Wales.
Following final assembly late last year, Airbus has used the last few months to install all the necessary test equipment into the aircraft ahead of its first flight.
The Airbus A321XLR will have a range of up to 8,000km with up to 220 passengers making it a popular choice with airlines looking to cut costs, particularly on transatlantic routes.
The flight on Wednesday will be the first stage in the flight test program ahead of expected entry into service of late 2023.