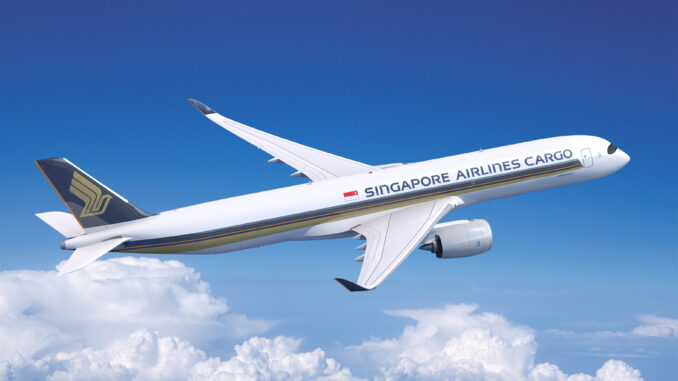 Airbus has won two orders for the Airbus A350F, the freighter variant of the popular long-haul airliner, totalling 14 aircraft at the Singapore Air Show.
Singapore Airlines was the first to finalise the deal (originally announced in December) for seven aircraft that will replace its ageing Boeing 747 Freighter fleet.
Airbus head of International Christian Scherer said: "The A350F will fit seamlessly into the carrier's existing fleet, while redefining the operational efficiency of its cargo operations, bringing a 40% reduction in fuel consumption and emissions compared with the aircraft it will replace at SIA, while offering the same payload-carrying capacity and longer range. Consumer patterns have changed dramatically in recent times, generating increased demand for the swift transport of cargo by air. With the A350F, SIA will be well-positioned to respond to this enormous market potential in a profitable and sustainable way."
The order means that Singapore Airlines will be the launch customer for the A350F.
The second order came in the form of a letter of intent from Etihad for a further seven aircraft which will add to Etihad's existing A350-1000 passenger fleet, of which it has five.
Tony Douglas, Group Chief Executive Officer, Etihad Aviation Group said: "As our cargo operations continue to overperform and we work towards a more sustainable future built upon the world's youngest and most fuel-efficient fleet, the addition of the A350F will play a key role in driving our long-term cargo strategy and achieving our 2035 target to reduce CO ₂ emissions by 50%."
Powered by two Rolls-Royce Trent XWB97 engines, the orders are good news for UK companies where not are the engines made, but also the wings at Airbus' Broughton site in North Wales.
The A350F offers a 20% lower fuel consumption compared to its closest competitor aircraft and by having commonality to all A350 variants on the flight deck, it can also help to reduce crew costs for airlines.