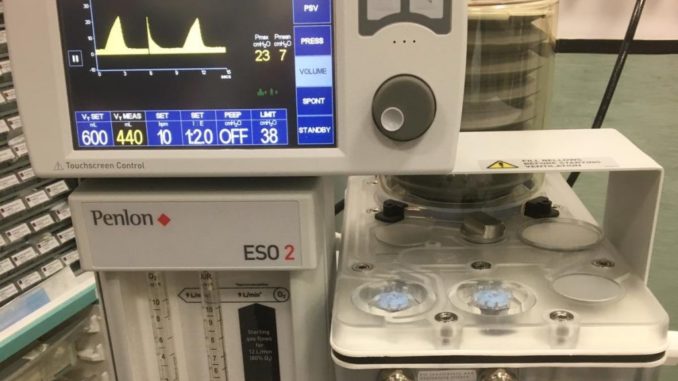 A medical ventilator built by several engineering companies including European Aerospace company Airbus and a number of Formula 1 teams has gained approval for use in the UK.
The ventilator will help treat patients with severe breathing difficulties as a result of COVID-19.
The approval from the Medicines and Healthcare products Regulatory Agency (MHRA) cleared the way for a government order for 15,000 of the devices known as Penlon Prima ES02.
The ventilators aren't completely new in design but rather an updated version of the existing model.
They are designed to be switched on and off easier to allow for regularly draining of fluid from the lungs.
The Ventilators will be made at several sites around the UK including Airbus' wing-making facility at Broughton, North Wales and McClaren's F1 factory in Woking.
Between all the participants, around 1,500 ventilators are expected to be made per week, up from the 50 or so that can be made in a week by Penlon.
In a statement, Dick Elsey of VentilatorChallenge UK said: "I'm very pleased to confirm that we have now secured MHRA approval for the Penlon Prima ESO2 device which has been undergoing stringent testing and clinical trials for the last two weeks.
"Ventilators of this type are complex and critical pieces of medical equipment so ensuring the absolute adherence to regulatory standards and meeting clinical needs were always our priorities. We will now accelerate the ramp-up of production at the Penlon site in Oxfordshire and the new VCUK production lines we've built in Broughton, Dagenham and Woking.
"Having already commenced deliveries of the Smiths Group's paraPAC plus devices, we are working closely with our supply chain partners to rapidly scale up production to achieve our target of at least 1,500 units a week of the combined Penlon and Smiths models. I want to take this opportunity to again thank every member of the consortium and the hundreds of dedicated colleagues who have been working day and night to get us to this point."
Other companies including Dyson are also seeking approval for Ventilators they have designed.