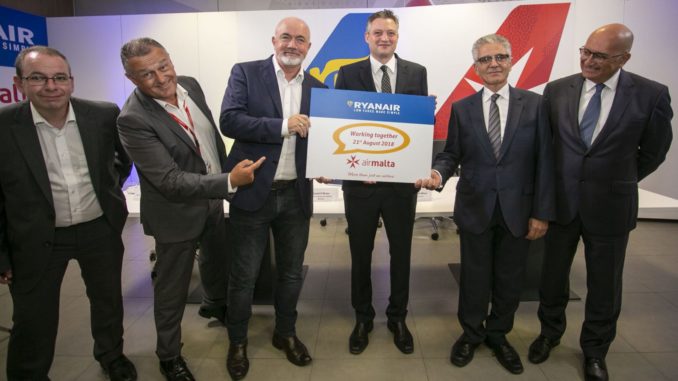 Ryanair and Air Malta have announced a new partnership that will people visiting Ryanair's website to book onward flights on Air Malta's network.
The move opens up 21 Air Malta routes on Ryanair.com across Africa, Asia and Europe including Casablanca, Moscow and Zurich.
It is important to note though that this is a sales partnership and not a codeshare agreement. That means that while you can purchase the Air Malta flight via Ryanair at the same time as a Ryanair flight to Malta, you will still need to check in for the Air Malta flight separately.
The partnership is being marketed under Ryanair's "always getting better" programme.
Ryanair CCO David O'Brien said: "We are pleased to announce this exciting partnership with Air Malta, which allows our 139m customers to browse and book flights on 21 new routes from Malta to exciting cities in Austria, Czechia, Israel, Morocco, Russia, Switzerland, Tunisia and Ukraine, in addition to over 300 existing destinations available on the Ryanair.com website, the world's largest travel website, which receives over 50m unique visitors every month.
This partnership is the latest AGB enhancement as we continue our journey to becoming the 'Amazon of travel.' Ryanair offers 53 routes to/from Malta, and now our customers can enjoy even more routes, making Ryanair.com the ideal choice for families, leisure travel and business customers."
Air Malta's Chairman Dr Charles Mangion said: "This is a landmark agreement were both airlines are cooperating together for the benefit of their mutual customers. Over the last year Air Malta has made significant improvements not only to expand its network of destinations with more frequencies and destinations but also changing its product in terms of fare structure and onboard service. This agreement will also help Air Malta increase its visibility in overseas markets and tap into new revenue streams. We look forward to further cooperation between the two airlines for the benefit of our clients".
In separate news, Ryanair recently admitted that an "administrative error" led to nearly 200 cheques being returned by customers banks as they hadn't been signed by the airline.
The cheques, which were issued to pay compensation owed to passengers caught up in the recent Pilot strikes that have hit the airline, bounced when customers tried to cash them.
A spokesperson for Ryanair said that a very small number of cheques processed in July had not been signed "due to an administrative error".
Ryanair has said it will rectify the error as soon as possible but some customers have been charged by their bank for processing the bounced cheque.