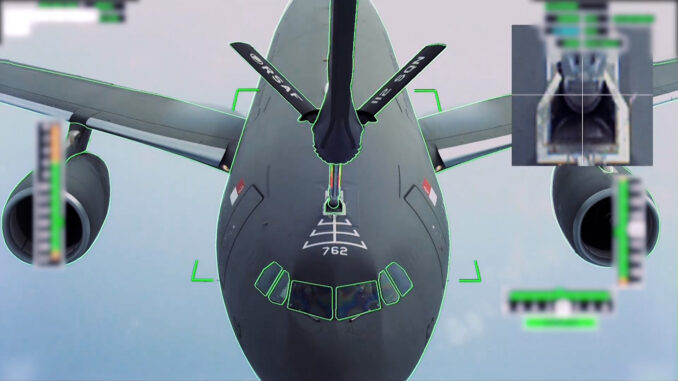 The Airbus A330 MRTT (Multi Role Tanker Transport) has become the world's first tanker to be certified for automatic air-to-air refuelling (A3R).
Carried out in collaboration with the Republic of Singapore Air Force (RSAF) the MRTT was able to safely demonstrate its automatic boom refuelling operations in daylight to a level that satisfied the Spanish National Institute for Aerospace Technology (INTA).
The big benefit for air forces is that the Smart MRTT aircraft has all the equipment and no additional equipment or modifications are needed on the receiving aircraft.
"The certification of the A3R capability is the result of a successful journey that started in 2018 with the world's first automated contact with a boom system in a joint operation with the Royal Australian Air Force (RAAF). Since then, we've achieved more aeronautical "world firsts" thanks to the support of our customers, especially with the key participation of our partner the RSAF, a launch customer and the first operator to benefit from this game-changing capability. The A330 MRTT continues to increase its technological advantage with superior air refuelling capabilities," said Jean-Brice Dumont, Head of Military Air Systems at Airbus Defence and Space.
The next stage for the Smart MRTT is to develop its Auto'Mate technologies that will allow it to autonomously fly in formation and carry out fully autonomous refuelling using Autonomous Assets Air-to-Air Refuelling (A4R)