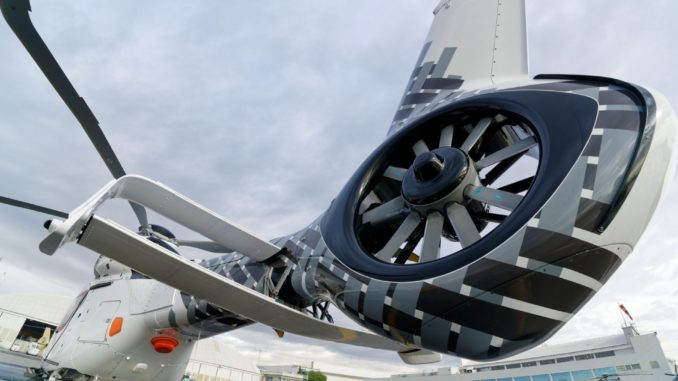 We look at the 50 years since Paul Fabre & René Mouille launched the Fenestrou
The Fenestron is now a familiar sight on helicopters produced by companies like Aérospatiale, sud-aviation and later Airbus but before 1968 the safety-improving device didn't exist, We look back at 50 years since the invention of the Fenestron.
Invented by Paul Fabre and René Mouille the shrouded tail rotor was initially developed to provide safety for workers. It operates like a ducted fan and by doing so it reduces tip vortex losses whilst shielding the tail rotor from damage making it ideal for operating in complex operational environments such as high-voltage power lines or in confined areas.
Originally called the "Fenestrou", which means "little window", It was first certified on the Aérospatiale Gazelle which flew in 1972 and went on to become one of the best selling helicopters ever. The five-seat aircraft was particularly popular with armed forces including the British Army. Its next appearance was on the prototype Dauphin helicopter, which also flew in 1972
The system was tested on a Puma 3 years later but with its diameter of 1m60 and its 11 tail rotor blades, it required too much power for the Fenestron to be operationally productive.
Second generation Fenestron's came at the end of the 1970's when composite materials started being used. This allowed the designers to increase the diameter of the new Dauphin's Fenestron by 20% in a move motivated by the U.S. Coast Guards. The U.S. Coast Guards aircraft are still in service today and according to Airbus have accumulated more than 1.5 million flight hours.
The mid 90's saw research continue to optimise the shape of the Fenestron, blade foils, and to improve sound reduction, especially during certain phases of flight which lead to the third generation of the Fenestron which was fitted onto the Airbus H135 (Eurocopter EC135). In 1999 the H130 performed its maiden flight with a Fenestron derived from the H135 version. The bigger H145 followed suit in 2010.
The H135 and H145 helicopters are widely used by Emergency services in the UK working as Police Air Support helicopters with the National Police Air Service (NPAS) and as Air Ambulances with organisations such as Wales Air Ambulance Charity (WAAC).
50 years on, The Fenestron is still going strong on Airbus helicopters with the latest H160 possessing the largest Fenestron ever built on an Airbus helicopter with a diameter of 1m20 and with the H160 proving popular in the medium twin market, the Fenestron will be one of Airbus Helicopters' signatures in the skies for decades to come.