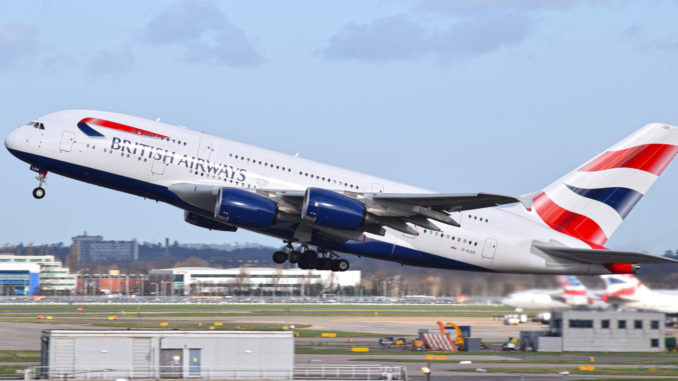 Airbus and Heathrow celebrate 10 years of the A380 Superjumbo
Airbus and London Heathrow Airport (LHR/EGLL) have celebrated 10 years of the Airbus A380 at the Airport.
The very first Airbus A380 flight, operated by Singapore Airlines, touched down at the airport on the March 2008. SQ308 flew to Heathrow from Singapore's Changi Airport.
Heathrow now sees around 50 Airbus A380 flights per day making it the worlds busiest airport for the number of A380 operators.
The Airbus A380 Superjumbo is the worlds only two-deck, or "double-decker", aircraft in service and its capable of carrying 853 passengers, although typically they are configured for around 500 passengers for most airlines.
It was designed to create an increased capacity for passengers wanting to travel in already congested airspace but sales have been slow and the project was almost cancelled this year before Emirates placed an order for 26 aircraft, giving it a lifeline for another 10 years.
The wings for the A380 are made at Airbus' main wing making facility in Broughton, North Wales.
Singapore Airlines was the first operator for the A380 although Dubai based Emirates Airlines is the worlds biggest operator with 101 in service. British Airways is the 4th biggest operator of the A380 with 12 in service. Other operators of the A380 at Heathrow include Qatar Airways, Malaysia Airlines and Qantas.
Simon Eastburn, Director of Airline Business Development at Heathrow said: "It's been fantastic to see nine of our airlines welcome the Airbus A380 over the past decade. Ten years from first flight, this pioneering aircraft has helped us reduce noise and improve efficiency whilst supporting continued passenger demand for long-haul routes. This is one of the most popular aircraft for many passengers so we look forward to celebrating this milestone with them."
Heathrow Airport celebrated the anniversary by giving passengers arriving on A380 flights special A380 goodies and Ten passengers received VIP packs to continue their journey to London in style, including complimentary Porter service at the airport, Heathrow Express Business First tickets to Central London or WeKnowLondon Chauffeur Drive to winners' chosen address, and a £250 WeKnowLondon voucher.
British Airways Captain Dave Wallsworth films and explains an A380 take-off