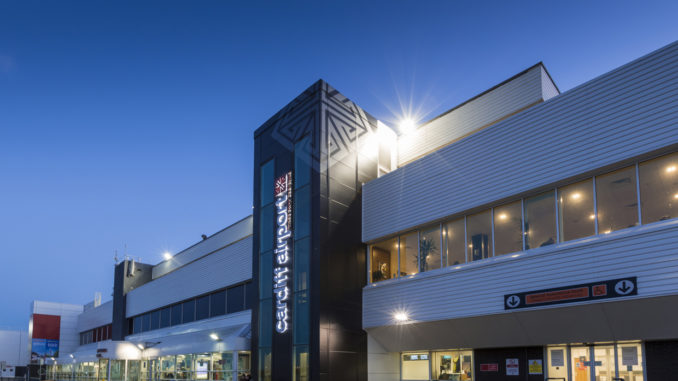 The Welsh Government and Cardiff Airport have set out their vision for the next 2 decades which includes the airport taking control of MOD St Athan.
Unveiling the draft masterplan, outgoing First Minister Carwyn Jones said: "These improvements are ambitious yet achievable and will enable the Airport to continue its development of further aviation links to the rest of the UK, Europe and beyond which will improve its competitiveness and attractiveness as a gateway to international travel and trade."
The draft, which now enters a consultation period, highlights the importance of Cargo in the future of Cardiff Airport. Freight handling was one aspect that Qatar Airways said was important when it launched its daily Doha service and whilst passenger numbers have been average, cargo has been full on almost every flight. As a result, the masterplan includes plans for a dedicated cargo terminal to be built along with additional warehousing at the airport.
For passengers, the plan is to build a new state of the art terminal utilising the latest in technology to smooth the flow through the airport and improve the user experience. The terminal will use smart technology to create a "memorable first and last impression".
Other enhancements include improved transport links such as a connection fo the planned South Wales Metro service, improved links to the M4 and a new multi-storey car park at the airport.
Cardiff Airport says that these facilities are needed as it wants to grow to beyond 3 million passengers, effectively doubling the current passenger figure.
Roger Lewis, Chairman, Cardiff Airport, said: "2018 has been a transformational year for Cardiff Airport and for Wales as we've already welcomed over 9% more passengers to the Airport and more inbound visitors to the country than ever before.
"We have always been ambitious with our plans and this Draft Masterplan continues to show the confidence we have in our business and in the region. The Airport plays a vital role in delivering for Wales and developing even further as a viable alternative gateway to the UK."
Deb Barber, CEO, Cardiff Airport, added: "This Masterplan has been created to set out milestones up to the year 2040 that enable us to meet our vision for the future and position Cardiff Airport as a key part of the UK's transport strategy.  We have ambitious plans for growth which can only be achieved if we enhance our infrastructure and create a 5* airport experience for customers that's efficient, modern and enjoyable.
"Today's unveiling is an opportunity for us to embark on a period of engagement with stakeholders, customers and neighbours; so that we can gain insight, inform and shape Cardiff Airport's future."
Cardiff Airport is inviting your views on its vision towards 2040 and you can find out more here https://www.cardiff-airport.com/masterplan2040/
St Athan takeover
In addition to the Cardiff Airport masterplan, it was also announced that Cardiff Airport takes over the running of nearby MOD St Athan from March 2019 in a joint venture with the Welsh Government.
The St Athan site forms part of the enterprise zone and includes several successful companies such as eCube and Horizon Aircraft Services as well as the brand new Aston Martin factory.
The airfield currently operates under the Military Aviation Authority but will change to civilian operations from next year under the Civil Aviation Authority (CAA).
It is understood that the Welsh Government is exploring the possibility of setting up cargo operations at the St Athan site, despite a new cargo terminal forming part of Cardiff Airports masterplan.
It is hoped that the joint venture will create up to 2000 jobs in the aviation enterprise zone.