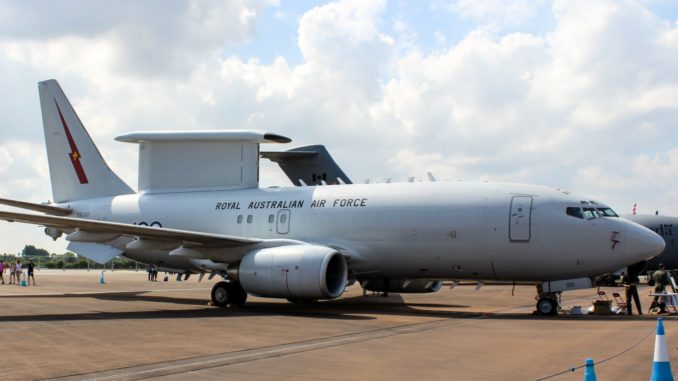 The Ministry of Defence (MOD) has announced it has signed a deal to purchase five Boeing E-7 Wedgetail Airborne Early Warning & Control Aircraft (AEW&C).
The E-7 Wedgetail will replace the Boeing E-3 Sentry Aircraft, known as AWACS, in the Airborne Early Warning & Control for UK airspace and operations in theatres of operations.
The deal, first revealed by us in August last year, was originally held up over questions about its value to British Companies, a factor in all MOD purchases. A deal has been struck for future maintenance to be carried out in the UK and will help to support around 200 jobs at Marshall Aerospace & Defence in Cambridge as a result.
The Boeing E7 Wedgetail is based on the Boeing 737-700NG. It carries a Northrop Grumman electronically scanned array radar system with 360 degrees of scan up to 300nm. It has been in service with the RAAF since 2009 and has already been proven in combat in the fight against ISIS.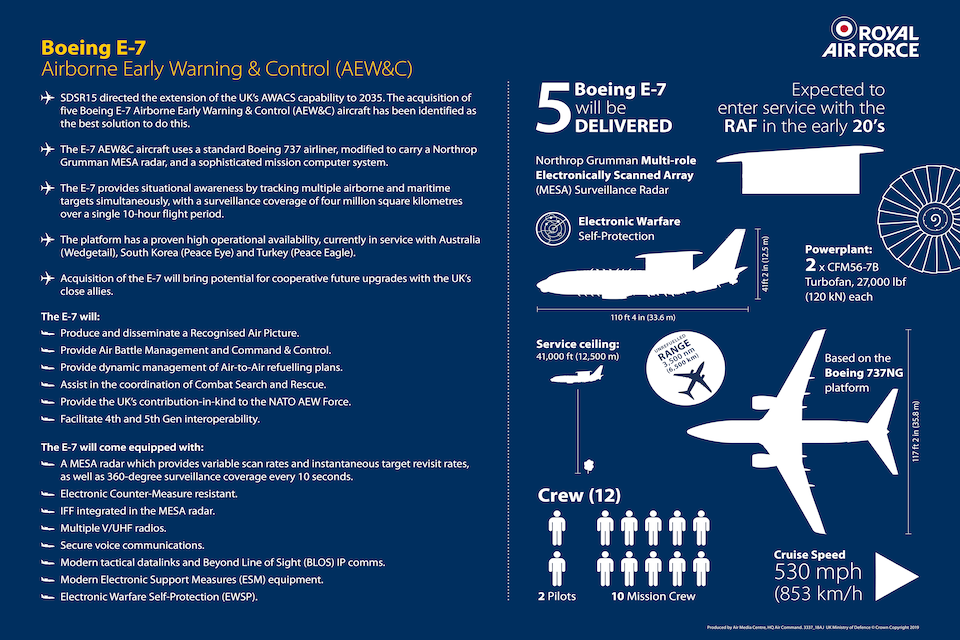 Speaking about the deal Defence Secretary Gavin Williamson said: "The E-7 provides a technological edge in an increasingly complex battlespace, allowing our ships and aircraft to track and target adversaries more effectively than ever. This deal also strengthens our vital military partnership with Australia."
RAF Crews had been carrying out testing, evaluation and training alongside the Royal Australian Air Force (RAAF) who already operate the E-7 Wedgetail.
Chief of the Air Staff, Air Chief Marshal Sir Stephen Hillier added: "Today's announcement about the procurement of five E-7 'Wedgetail' Airborne Early Warning and Control aircraft is excellent news for both the RAF and wider Defence. This world-class capability, already proven with our Royal Australian Air Force partners, will significantly enhance our ability to deliver decisive airborne command and control and builds on the reputation of our E3D Sentry Force. "