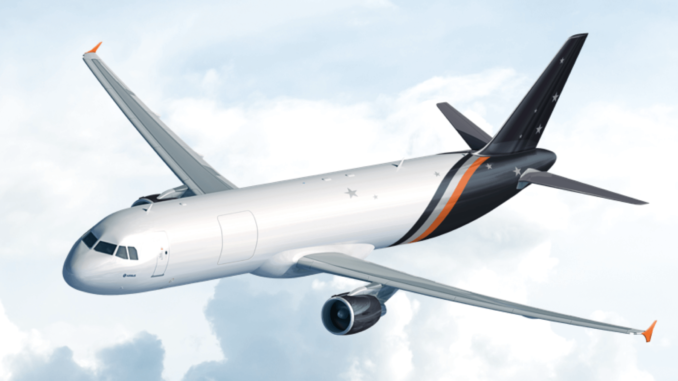 Charter specialist Titan Airways (ZT/ZWC) has taken delivery of its first Airbus A321P2F (Passenger to Freighter) cargo aircraft, the first of its kind in the Europe.
The Aircraft, an ex-Thomas Cook Airbus A321, was converted by ST Engineering in Singapore and returned to its owner, Leasing Specialist BBAM Aircraft Leasing & Management ahead of its delivery to Titan.
The aircraft is the product of a joint project between ST Engineering, Airbus and Elbe Flugzeugwerke and aims to provide an alternative to the Boeing 737F, of which Titan already operate two.
Alastair Willson, Managing Director of Titan Airways said: "We are delighted to take delivery of our first A321P2F from BBAM and EFW," adding "Titan Airways has over 32 years of successful freight and passenger operations, and has been an Airbus operator since 2013. The A321P2F will enable us to utilise all the benefits of this type into our air freight activities including best-in-class economics, reduced noise, a lower carbon footprint and real-time health monitoring, ensuring the highest levels of reliability."
It is the first aircraft of its size to allow container loading on both its cargo and main deck. It can carry up to 24 Containers (14 on the main deck and 10 in the lower cargo deck.
The Airbus A321P2F is only the second of the type to be completed, the first was delivered to Australian flag carrier Qantas. Titan has two more on order.
While the Coronavirus pandemic has seen global air travel slump, a by-product of that has been a reduction of available cargo space on passenger routes prompting an increase in demand for dedicated freighters.