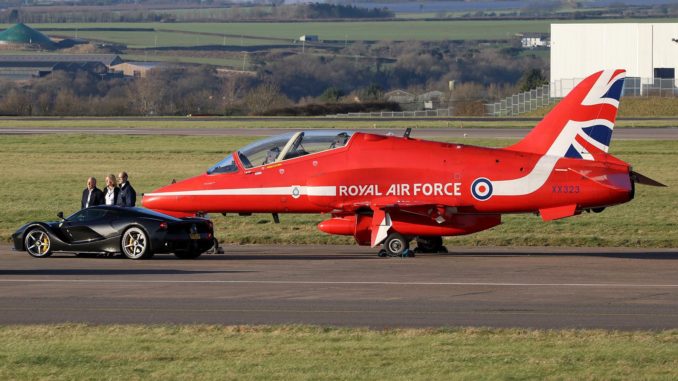 A Solo Red Arrows BAe Hawk visited Cardiff Airport today where it met up with the bosses of local aircraft company AMSS and their collection of Ferrari's ahead of a talk in Cardiff this evening.
Flt Lt RAFAT Mike Bowden aka Red 4 is from Newport and is in South Wales to celebrate the 150th Anniversary of the Royal Aeronautical Society . He will be giving a talk at the University of South Wales Treforest Campus.
The Hawk, XX323 arrived at Cardiff at 1545hrs and parked on the Cambrian apron. It was then joined by the Black Ferrari's for a photo shoot with a local amateur photographer.
Based in Bridgend AMSS are a manufacturer and retailer of aircraft ground equipment  for both military and civil aviation. The company is one of the success stories of the growing aviation industry in Wales having been around since 1978.
The Red Arrows of course have been regular visitors as a team to Cardiff Airport whilst performing shows nearby at airshow's such as the now annual Wales National Airshow at Swansea.