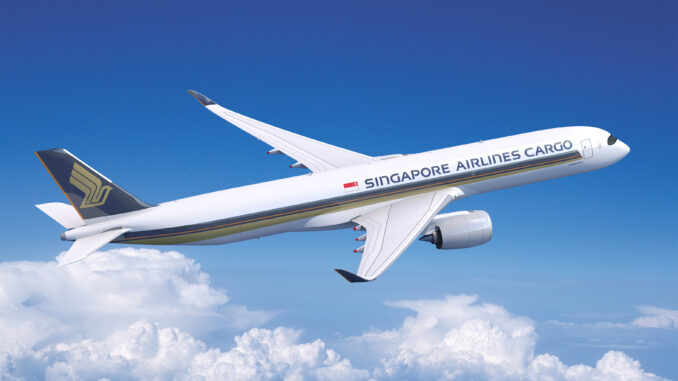 Singapore Airlines has signed a Letter of Intent (LoI) with Airbus for seven Airbus A350F cargo aircraft to replace the airline's ageing Boeing 747-400F aircraft.
The A350F is a purpose-built freighter variant of the popular Airbus A350 airline which the airline already operates and the letter is a sign of confidence for the new variant which was only approved by the Airbus board earlier this year.
Parts for the aircraft will be made all over Europe and the Wings, as they are for all Airbus commercial A3XX series aircraft, will be built in Airbus' north wales site at Broughton.
The freighter will also be powered by Rolls-Royce Trent-XWB97 engines made in Derby, England.
"We are honoured by Singapore Airlines' vote of confidence in the A350F as it renews its freighter fleet. The A350F is the world's all-new large freighter and will be unmatched in its market segment in terms of operational efficiency, lower fuel consumption and CO₂ savings," said Christian Scherer, Airbus Chief Commercial Officer and Head of Airbus International. "It is gratifying that Singapore Airlines recognises the value of the A350F as we build on the strong partnership we already enjoy."
A350F – the more efficient freighter
The Airbus A350F will be able to carry around 109 tonnes of cargo whilst operating with 20% lower fuel consumption than any competitor aircraft in its class.
Its nearest competitor, the Boeing 777F carries 3 tonnes less and a longer range and compared to the Boeing 747-400F it is replacing at Singapore airlines, its fuel burn is 40% lower!
Airbus has also confirmed that it will meet the new International Civil Aviation Organisation (ICAO) CO2 emissions standards which come into force in 2027.
It is expected to enter service in 2025.