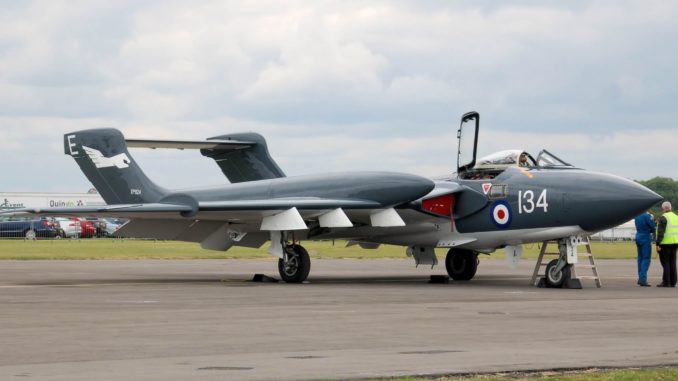 Welshpool Airshow organisers have announced that the Sea Vixen will be displaying at the 2017 Welshpool Airshow which takes place on June 11th.
The Cold War era Sea Vixen (G-CIVX) is operated by Navywings who are based at Royal Naval Air Station (RNAS) Yeovilton. The aircraft flies in 899 Naval Air Squadron colours from HMS Eagle.
The aircraft joins the growing list of displays on the day including:
Lauren Richardson in her Pitts Special
Team Raven
The Red Devils Parachute Display Team
Aviat Husky
Old Buckers
Twister Aerobatic Team
BAC Strikemaster
Grob Tutor
The Sea Vixen entered service with the Fleet Air Arm in 1959 replacing the Sea Venom.  They saw service in Tanganyika and in the Persian Gulf. According to Navywings they "played a crucial role during the days of the Beira Patrol preventing oil reaching landlocked Rhodesia."
The Bob Jones Memorial Airshow at Welshpool usually not only has air displays, for those who like to keep their "feet on the ground" there is also a Festival of Transport with classic private and military cars, bikes, vans and larger vehicles.
More Information & Tickets http://www.welshpoolairshow.co.uk/