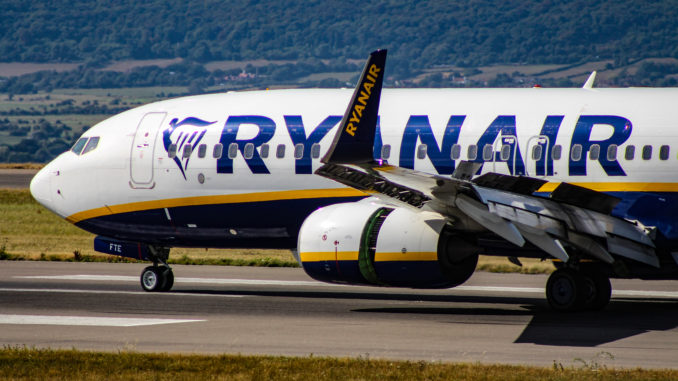 Irish budget airline Ryanair (FR/RYR) has set out its plans for flights in Summer 2021 including 26 new routes from the UK to Europe and a return to Belfast City.
Ryanair CEO Michael O'Leary said that he expects travel restrictions to be lifted this summer as the UK's coronavirus vaccination programme will see more than 50% of the UK population protected from the virus.
He said that the airline expects to be operating over 2000 flights per week during July, August and September 2021.
New routes include 8 new routes from Belfast City to Alicante, Barcelona, Faro, Ibiza, Malaga, Milan, Palma and Valencia, marking its return to the airport after a gap of 11 years.
Other new route including flights from London to Preveza, Rodez, Santorini and Zakynthios, Birmingham to Poznan and Rhodes, Edinburgh to Knock and Naples, Liverpool to Kaunas and Kosice, Manchester to Bucharest and Knock, Teesside to Alicante & Palma, Bristol to Venice, Bournemouth to Bergerac, Leeds to Chania and Newcastle to Chania.
Michael O'Leary, said: "The UK Govt has implemented a very successful vaccine rollout programme, and is on track for a re-opening of EU short-haul travel this summer. Ryanair is pleased to offer even more choice and lower fares to our UK customers and their families with over 2,300 weekly flights and 480 routes to choose from, including 26 exciting new holiday connections to Naples, Rhodes, Chania, Alicante and Mallorca among many others." adding "UK families can now book a well-earned summer holiday safe in the knowledge that if their plans change for any reason they can move their travel dates up to two times with a zero-change fee up until the end of October 2021."
European countries including Spain and Greece have said they will be open to UK travellers that have been vaccinated from the 17th May 2021 but the bloc is currently facing a third wave of the virus with restrictions already returning in France and Germany.
Mr O'Leary said that he wanted to give confidence to passengers to book summer holidays, particularly during school holidays and reaffirmed that Ryanair was offering a zero-fee policy for changes that have to be made due to travel restrictions.
He also updated on Ryanair's Boeing 737 Max order and said that Ryanair expected to take delivery of the first 737 Max in April 2021 and expects to operate 16 of the type in 2021.
Asked about consumer confidence in the 737 Max Mr O'Leary said that any passenger that didn't feel comfortable flying on the aircraft could get the next available flight at no cost, they could not however disembark and seek a refund.