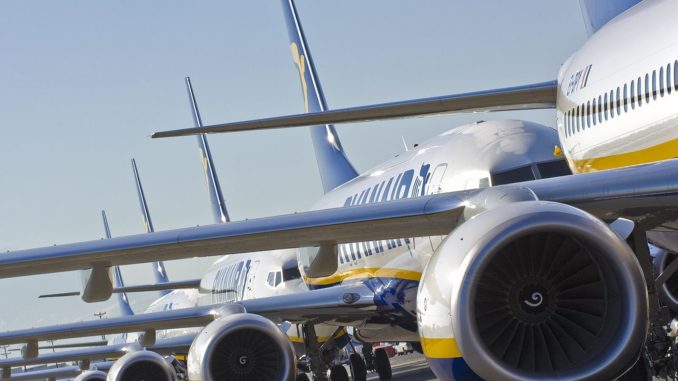 Ryanair management have failed to respond to demands from regional pilot groups over pay and conditions and are now staging an effective "white strike" or work to rule.
Representatives from Ryanair's European pilot federation gave the ultimatum to the company in a letter (pictured) with a deadline of 22nd September. Ryanair management has failed to respond prompting fears of further delays and cancellations for the troubled low-cost airline.
Ryanair is known for recruiting zero-hour pilots in a bid to keep wages low but due to low wages and poor conditions, this usually results in pilots leaving as soon as they are experienced. A problem that is causing the cancellation of 40-50 flights a day from Ryanair's summer schedule.
Pilots at its European Bases working to rule will include things such as turning up 45mins before departure, as required in their contracts. In reality, they are expected to turn up earlier than that due to the time required to prepare the flight. With crews arriving just 45 minutes before the flight it is likely that departure times will not be met.
Other disruptive measures could include mass-sick days and by taking longer to park aircraft when on the ground prompting turnaround delays.
The moves affect 60 Ryanair bases across Europe and by definition means that pilots will do no more than the minimum required by the rules of their contract, and precisely follow all safety or other regulations, which may cause a slowdown or decrease in productivity.
Ryanair recently announced a raft of cancellations, some at just hours notice, as it said an error with pilot holiday scheduling had caused a lack of availability. It soon emerged though that Ryanair was haemorrhaging pilots to other rival airlines such as Norwegian and Jet2.
The situation was compounded when Ryanair CEO Michael O'Leary claimed pilots were overpaid and its not hard work flying just 18 hours a week Mr O'Leary said "I would challenge any pilot to explain how this is either a difficult job, or how it is they are overworked or how anybody who by law cannot fly more than 18 hours a week could possibly be suffering from fatigue." adding "If there are fatigue issues among pilots … in short-haul flying it's never as a result of flying.".
Over the course of the last week, Ryanair's share price has dropped from €17.22 to €16.20 wiping nearly €1bn off the value of the company.