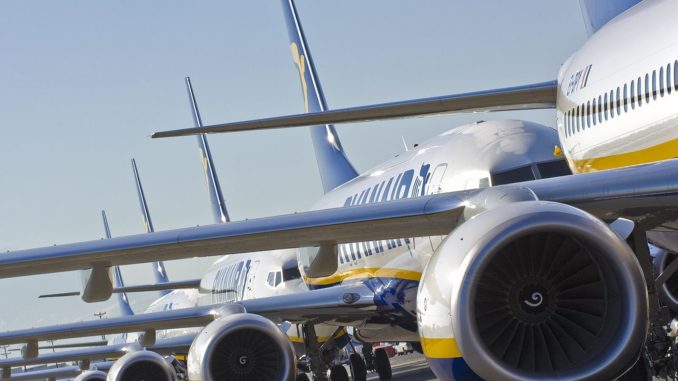 The beleaguered low-cost airline, Ryanair has given in to its pilots over pay and conditions after weeks of denying pilots were leaving.
The Dublin based airline recently put a cancellation policy into force causing misery for hundreds of passengers who had their flights cancelled at the last minute.
Ryanair claimed it was due to staff-scheduling errors however it quickly emerged that pilots had been leaving the airline in droves over poor pay and conditions at the airline.
One issue Ryanair faced was that it had been recruiting zero hour pilots on low salaries only to have them leave once they had gained enough experience to work for another airline.
In a letter to all Ryanair pilots, CEO Michael O'Leary pleaded with pilots to remain with the airline and promised a 12,000 euro loyalty bonus for captains (6000 for first officers). The offer comes just weeks after he attacked his own pilots work ethics after many came forward to complain about the conditions across the European bases. In a press conference, he said: "I would challenge any pilot to explain how this is a difficult job or how it is they are overworked."
Mr O'Leary apologises to pilots for those comments but says he was misquoted and he was referring to pilots of rival airlines.
Unable to resist further digs at his competitors he claims Ryanair's competitors Norwegian and Jet2 are financially unstable and said that he hoped these promises would  "dissuade people leaving to join less financially secure airlines and damaging their careers".
In a line which has been described as "desperation" Mr O'Leary tells pilots "If you have, or are considering, joining one of these less financially secure or Brexit-challenged airlines, I urge you to stay with Ryanair for a brighter future for you and your family,"
Further pointing the finger at competitors, the letter goes on to say that if Norwegian or Jet2 are paying more than Ryanair at a base then the airline will match it. A move squarely aimed at the fact that 140 pilots had left Ryanair for Norwegian alone in 2017.
One Ryanair pilot we spoke to said he is still actively seeking another airline and the letter hasn't changed his mind, "In 12 months time, O'Leary will find some way of squirming out of paying the bonus" adding "this desperate letter is just insulting given his views on us. Feeling valued is just as important as salary".
The letter marks the 2nd u-turn for Ryanair in as many weeks after it was forced to adhere to rules and stop misleading customers over their cancellation rights by the UK regulator, The Civil Aviation Authority.