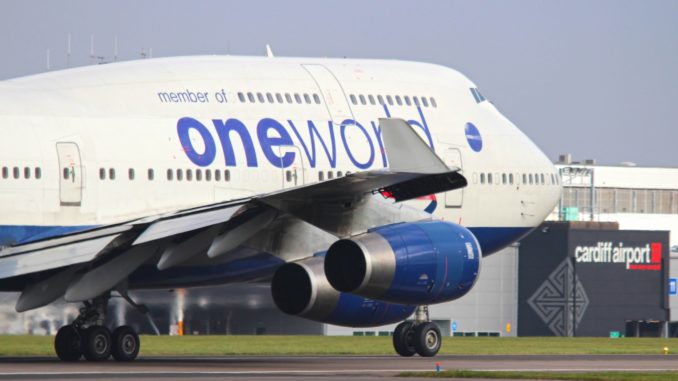 On 1st November 2016 Roger Lewis marks his first year as chairman of Cardiff Airport (CWL/EGFF) after taking over from Lord Rowe-Beddow. He has taken the opportunity to reflect back on his 1st year of Cardiff Airport.
In his annual report he said: "First and foremost, on behalf of the Board of Cardiff Airport, I would like to thank and congratulate Debra Barber, Managing Director & Chief Operating Officer, for the outstanding job she is doing in building a strong company so adeptly. Along with her fellow Executive Directors, Spencer Birns and Huw Lewis and alongside all of the Airport team, they have together worked tirelessly to deliver an outstanding and successful year.
Cardiff Airport, in conjunction with our airline partners, is now better positioned to serve our passengers, with more destinations, at better prices and at better times.

Our goal is to be an outstanding Capital City Airport of which Wales can be proud.
Cardiff Airport can play a significant role in the aviation industry, both locally and nationally, and it is without doubt a strategic asset for Wales, already assisting in driving our nation's economic growth. The Airport can play its part in the London airport debate as over one million passengers a year travel down the M4 to fly long haul. It is our ambition to help ease London airport congestion by achieving long haul flights from Cardiff. The abolition of Air Passenger Duty will help us to deliver on this.
For Cardiff Airport to achieve its full potential, we need a unity of purpose across the various political and business agendas and to align our respective strategies both in Wales and the UK, and I will continue to do all I can to take this forward.

A significant hurdle we have to overcome is Air Passenger Duty.  £26 paid from every domestic return flight goes to the UK Treasury and I will continue to call upon the UK Government to abolish this punitive tax which is holding back our growth. Air Passenger Duty has been devolved to Scotland and Northern Ireland. It is time for Air Passenger Duty to be devolved to Wales. The considerable economic benefit and increased employment and prosperity such a move will make, will come at a very modest cost.

We have much more to do to create long term sustainability for our enterprise, however, I am confident that we can deliver an Airport in Cardiff which is loved by its passengers, is welcomed by its partners, is profitable and recognised by all as being committed to delivering an exceptional service."
Over the last year Cardiff Airport has seen a 22% growth in passenger numbers and launched multiple new routes including Verona, Berlin and the London City link.
Lewis stated that the aims for 2017 are:
Continuing our growth in passenger numbers
Enhancing the passenger experience
Supporting our existing partners
Investing in our people
Offering more destinations, at competitive prices with greater frequency
Understanding the needs of our passengers better
Using digital technology to transform our business
Exploring all the opportunities which the Airport can offer its partners, including Maintenance, Repair and Overhaul (MRO), fuel, freight and aviation related training
Reviewing with Government, Air Passenger Duty and its impact on our growth
Working with new partners for certain aspects of the enterprise
Growing all of our revenues whilst maintaining tight control of our costs
Building value in the Airport
Adding a new independent non-executive director to the Board with significant commercial aviation and airport experience, complimenting and enhancing the current Board's strengths.
All in all 2016 certainly has been a positive year for Cardiff Airport thanks to Debra Barber and her team but one thing continues to hinder growth at Cardiff Airport and that is Air Passenger Duty (APD). With all other devolved countries in the UK able to set their own APD rates, the voices asking why Wales doesn't get the same rights are getting louder.
As long as the likes of  Vale of Glamorgan MP and Welsh Secretary Alun Cairns and Junior Welsh Minister Guto Bebb continue to block Wales having this right, it is a hurdle that will remain.