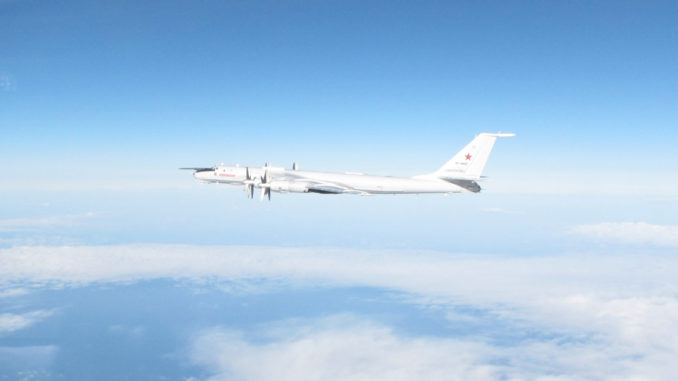 RAF Typhoons intercepted two Russian aircraft over the North Sea on the morning of 29 March, according to the Royal Air Force.
The Russian aircraft, Tu-142 'Bears', were first intercepted by the Norwegian Air Force but the NATO partners handed over the mission as the Russian maritime reconnaissance aircraft approached UK airspace.
Quick Reaction Alert (QRA) Typhoons were scrambled from RAF Lossiemouth in Moray, Scotland, to intercept and track the aircraft.
The mission was controlled from RAF Scampton in Lincolnshire with additional support given to the Typhoons by a Voyager air-to-air refuelling aircraft from Brize Norton.
One of the Royal Air Force QRA pilots involved in the mission said: "We were informed by our NATO colleagues of two suspected-Russian aircraft approaching our area of interest. We were scrambled and intercepted two Russian Tu-142 Bear-F operating near the UK, remaining on task to dissuade them from operating in the area.
"We are committed to maintaining the integrity of UK and NATO airspace, every minute of every day."
The Tupolev Tu-142 was designed in the 1960s in the Soviet Union and has the NATO reporting name 'Bear-F'.
RAF Lossiemouth has four front-line Typhoon Squadrons, and one Poseidon MRA1 Squadron. This number will increase to two when 201 Squadron stands up later this year. Nine Poseidon MRA1 aircraft have been ordered, five of which are now operating from RAF Lossiemouth as of this week.