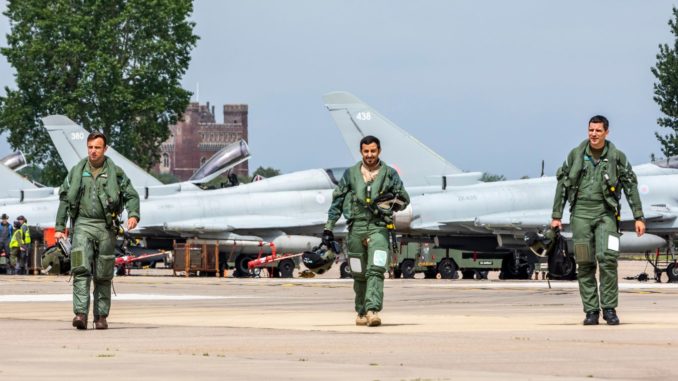 More than 130 RAF personnel deployed to Qatar for two-week joint exercise
Several Typhoons and more than 130 RAF personnel have arrived for what will be the first joint exercise for No.12 RAF Squadron in Qatar.
The two-week Epic Skies exercise will see pilots from the Royal Air Force and the Qatar Emiri Air Force (QEAF) fly and maintain the Typhoon, while challenged in a range of air to air, and air to surface scenarios which will put their training to the test.
No.12 Squadron, re-formed in 2018, is a joint Typhoon unit comprising RAF and QEAF pilots who are based at RAF Coningsby.
The Government of Qatar has ordered 24 Typhoons as part of a £6 billion deal, which also includes 9 Hawk jet trainers and a "bespoke support and training package".
According to the RAF, No.12 Squadron is a "unique initiative between the UK and Qatar and will provide the QEAF with valuable experience operating the Typhoon as they prepare to receive their first aircraft".
The joint squadron based at RAF Coningsby is half-funded by the Qatari government, however, Defence Minister James Heappey has refused to disclose either the cost of the joint squadron or the number of QEAF personnel based at Coningsby.
This comes as Defence Secretary Ben Wallace announced plans in October to "offer a British Base" for the nine Hawk aircraft also recently acquired by the Middle Eastern country.
Speaking of the training exercise, Lt Col Faisal Al-Ghanim, Deputy Officer Commanding 12 Squadron said the Epic Skies exercise was "particularly unique" this year.
"I've been involved in several of these exercises in the past, but this year is the first time I return home to fly the Typhoon alongside my RAF and Qatari colleagues, wearing the 12 Squadron crest. We joined the Squadron earlier this year to a very warm welcome, quickly integrating into day to day life and operations. Returning to fly from Qatar at a familiar air base is an absolute privilege, and I look forward to the challenges the exercise brings to our joint squadron."
As of September 2020, the UK had 30 Armed Forces personnel in Qatar, with over 6,000 deployed worldwide. A recent investigation by Declassified UK also found that the UK has bases in 42 countries worldwide at over 140 sites.