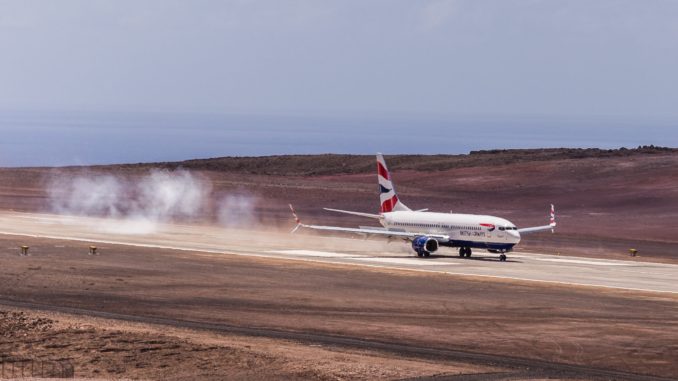 After 18 months of being plagued with problems, commercial flights have finally begun at the newly built St Helena airport, a remote island in the South Atlantic.
St Helena is one of the most remote civilisations in the world located more than 1200 miles off the coast of Africa. This island had previously only been accessible by ship with a crossing time of 6 days. The Island is a British Overseas Territory and has long played a key role in the defence of Britain. However, the only airport in the area until 2015 had been an RAF station on a nearby island which wasn't open to public flights. As such it meant anyone trying to reach St Helena had to take the time-consuming sea voyage.
In 2015 work was completed on the £285m new airport which would provide direct public access to the British Territory but since its completion, it has been left barely used. This came after it was discovered that it was too dangerous to land. The position of the runway meant it was susceptible to severe wind shear which could be catastrophic to any aircraft trying to land. Finally in May 2016, the airport was opened to medical evacuation flights and some General Aviation but still, no commercial planes were certified to land.
Several proving flights were carried out by Comair and Airlink shortly after it was built with all of them being unsuccessful! This included a Comair flight which required 3 attempts at landing before being able to do so safely. Now after years of extra work, more proving flights and collaboration from the UK Government and South Africa, scheduled passenger service finally commenced to St Helena on the 14th October.
The first service from Johannesburg was met by hundreds of residents who wanted to see the arrival of flight SA8131 from Johannesburg. The flight which will operate weekly from Johannesburg via Windhoek is operated by Airlink, the South African Airways regional subsidiary. The airline will use its Embraer E190 aircraft on the route allowing for up to 99 passengers to travel to the island at a time.
These commercial flights to and from St Helena will reduce the journey time from 6 days to just over 7 hours! It is hoped that this long-awaited service will boost tourism to the island and provide residents of St Helena with better links to the mainland and more access to supplies.
Watch Comair carry out trials at St Helena
Thinking of visiting St Helena? http://sthelenatourism.com/