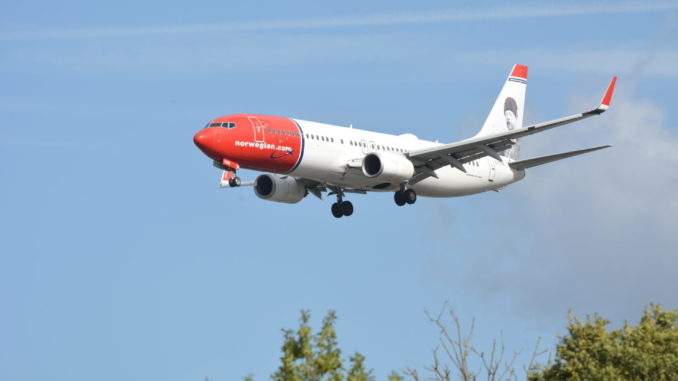 Norwegian Air Shuttle (DY/NAX) has said it will resume flights from London Gatwick (LGW/EGKK) and Edinburgh (EDI/EGPH) from 1st July 2020.
Initially the airline will only be operating to Olso and Copenhagen from the UK cities but will announce more routes as the summer moves on.
Since the outbreak of the Coronavirus Norwegian has only been operating domestic flights within Norway but will now open up 76 short-haul routes across Europe including the flights from Gatwick and Edinburgh.
Jacob Schram, Norwegian CEO said: "Feedback from our customers has shown that they are keen to get back in the air and resume their travels with Norwegian beyond the current domestic services that we have been operating. Norwegian is returning to European skies with the reintroduction of more aircraft to serve our key destinations which will ensure that we remain in line with competing carriers. As competition in the industry begins to recover over the summer period Norwegian will be in a position to continue to offer our customers great value and service while contributing to the gradual yet important return to normality for both the tourism sector and society as a whole. Safety remains our top priority and we have introduced a number of specific measures to further reduce the already low risk of infection on board."
The news will be welcomed by Gatwick airport in particular which has seen the withdrawal of Virgin Atlantic (VS/VIR) and the expected loss of British Airways (BA/BAW) from the Sussex Airport.
Stewart Wingate, Gatwick CEO, said: "The restart of regular Norwegian services from Gatwick is very welcome news and reflects the strength of the relationship and success the airline has had at Gatwick in recent years, as well as the fact that consumer demand is picking up as more people want to start flying again. For our part, the airport is ready to go and we have implemented a range of measures to protect the wellbeing and safety of both passengers and staff in recent weeks. The wellbeing and safety of passengers and staff remains Gatwick's top priority and – combined with the health measures announced by Norwegian –today's news demonstrates that we are starting to see small green shoots of recovery."
Norwegian says that all passengers over 6 years old will be required to wear face masks when onboard their aircraft and it will ask passengers to social distance when in the terminal and boarding.
There will also be no catering on board its flights to minimise the risk of virus transmission.