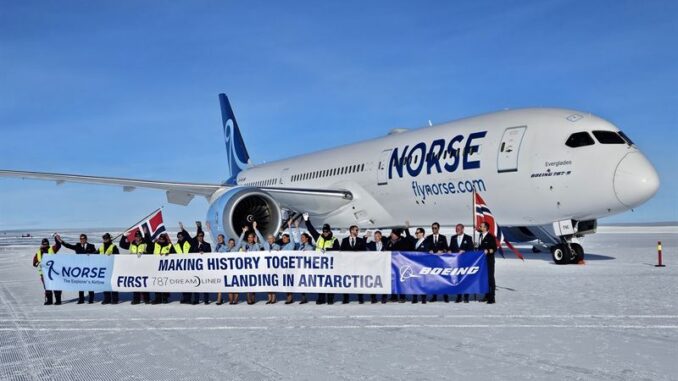 Norse Atlantic Airways has made a historic aviation milestone this week by flying a Boeing 787 Dreamliner to Antarctica, the largest airliner ever to land in the region.
The flight, which originated in Oslo, took from Capetown, South Africa, and landed on the "Blue Ice" runway at Troll Airfield carrying scientists and equipment for Troll research station in Queen Maud Land. It was operated by Boeing 787-9 LN-FNC.
Speaking about the achievement Bjørn Tore Larsen, CEO of Norse Atlantic Airways said: "It is a great honor and excitement on behalf of the entire team Norse that we have achieved together a momentous moment of landing the first 787 Dreamliner. In the spirit of exploration, we are proud to have a hand in this important and unique mission. It is a true testament to our highly trained and skilled pilots and crew, and our state-of-the-art Boeing aircraft."
One of the reasons the Boeing 787 Dreamliner was chosen for the flight was its lower emissions compared to other aircraft that have flown there such as older Boeing 757s and 767s.
Addressing this Camilla Brekke, Director of the Norwegian Polar Institute, said: "The most crucial aspect is the environmental gain we can achieve by using large and modern aircraft of this type for Troll. This can help reduce overall emissions and the environmental footprint in Antarctica" says Brekke before adding, "Landing such a large aircraft opens up entirely new possibilities for logistics at Troll, which will also contribute to strengthening Norwegian research in Antarctica."
In addition, the large cargo area of the Boeing 787 Dreamliner makes it ideal for carrying large volumes of vital supplies to keep the research stations running.