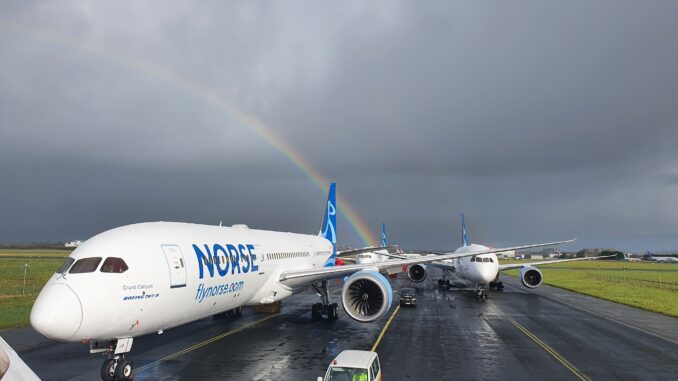 The latest entrant into the low-cost long-haul market Norse Atlantic (N0/NBT) has confirmed it will launch its first route from London Gatwick (LGW/EGKK) on 12th August.
The route between London Gatwick and New York's JFK airport will fly for the first time departing on 13:00hrs on the 12th with a return arriving back into Gatwick the following morning at just after 06:00hrs.
Norse Atlantic will use a Boeing 787-9 Dreamliner on the route, currently seen training around the UK, which is configured into a two-class layout of Economy and Premium Economy and has fares starting at £255 return.
Norse Atlantic recently acquired the slots at Gatwick airport and has moved quickly to fill a gap left when Norwegian Long haul stopped operating.
The airline is also launching flights from Gatwick to Oslo, Norway later in the summer also using a Boeing 787 Dreamliner to allow passengers to use its transatlantic routes to Fort Lauderdale, Los Angeles and Orlando with fares starting at just £41! A move which Norse Atlantic says will "provide the most comfortable option to travel to Norway".
Norse Atlantic Airways was founded by Bjorn Tore Larsen with Bjorn Kos, who founded Norwegian Air Shuttle, as a shareholder in the airline. It aims to build a fleet of 15 Boeing 787 Dreamliners.