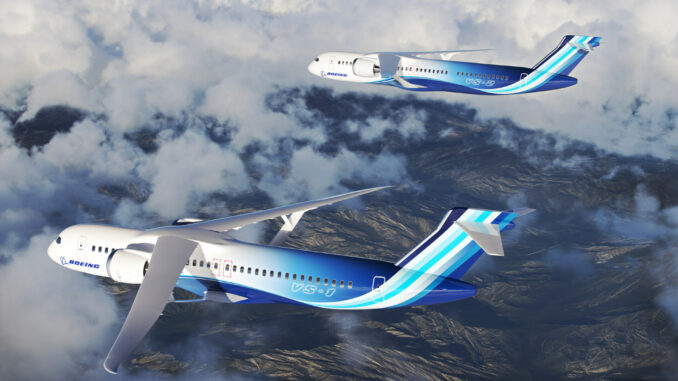 The National Aeronautics and Space Administration (NASA) has awarded a contract for the development and flight testing of a full-scale Transonic Truss-Braced Wing (TTBW) demonstrator aeroplane to Boeing.
The demonstrator will test technologies as part of the Sustainable Flight Demonstrator (SFD) program and will inform future designs that could lead to breakthrough aerodynamics and fuel efficiency gains.
The partnership believes that a single-aisle airliner with a Transonic Truss-Braced Wing configuration could reduce fuel consumption and emissions by up to 30% relative to today's most efficient single-aisle aeroplanes, depending on the mission.
The SFD program has the aim of advancing the civil aviation industry's commitment to reaching net zero carbon emissions by 2050.
"The SFD program has the potential to make a major contribution toward a sustainable future," said Greg Hyslop, Boeing chief engineer and executive vice president of Engineering, Test & Technology. "It represents an opportunity to design, build and fly a full-scale experimental plane, while solving novel technical problems."
The Transonic Truss-Braced Wing concept involves an aircraft with extra-long, thin wings stabilized by diagonal struts. This design results in an aircraft that is much more fuel efficient than a traditional airliner due to a shape that would create less drag – resulting in its burning less fuel.
"NASA is working toward an ambitious goal of developing game-changing technologies to reduce aviation energy use and emissions over the coming decades toward an aviation community goal of net-zero carbon emissions by 2050," said Bob Pearce, NASA associate administrator for the Aeronautics Research Mission Directorate. "The Transonic Truss-Braced Wing is the kind of transformative concept and investment we will need to meet those challenges and, critically, the technologies demonstrated in this project have a clear and viable path to informing the next generation of single-aisle aircraft, benefiting everyone that uses the air transportation system."
The project is an activity under NASA's Integrated Aviation Systems Program and a key element of the Sustainable Flight National Partnership, which focuses on developing new sustainable aviation technologies.