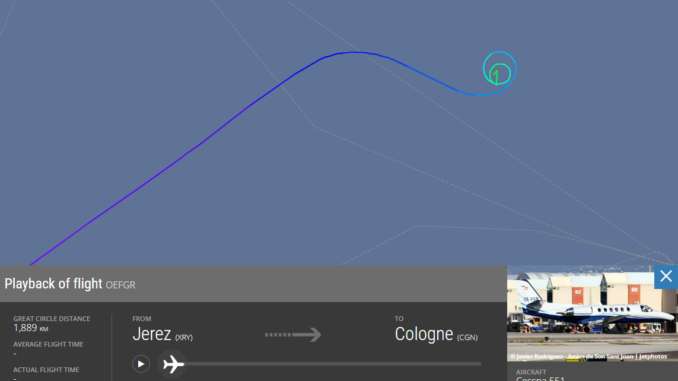 A private jet flying from Jerez in Spain to Cologne, Germany has crashed in the Baltic sea after becoming unresponsive causing NATO jets to be scrambled.
The Cessna Citation II (551), registered OE-FGR, left Jerez airport at 14:56 local time on a flight that should have taken about three hours.
After climbing to a cruising altitude of 36,000ft the aircraft became unresponsive north of Spain causing interceptor aircraft from several NATO countries to be scrambled to aircraft.
The aircraft continued on its flight path where it failed to descend for Cologne and carried onwards across Germany towards the baltic sea where it entered a spiral dive, peaking at a descent rate of around 5000ft per minute and crashed into the sea at 17:44 GMT.
Swedish officials reported that there was apparently no one on the flight deck of the aircraft when NATO jets intercepted.
A spokesperson for the Latvian Civil Aviation Authority said: "The aircraft was flying from Spain to Cologne, but during the flight, the aircraft changed its flight route," adding "Air traffic controllers were unable to communicate with the aircraft's crew,"
One theory being reported by a German newspaper is that the aircraft suffered a decompression after reporting cabin pressurisation problems after taking off from Jerez but this have not been confirmed.
The flight is eerily similar to a private jet which crashed in South Dakota in 1999 killing PGA Golfer Payne Stewart. The Learjet lost pressure causing all occupants including the pilots to become incapacitated due to hypoxia. The aircraft continued until it ran out of fuel and stalled.
Investigators will now be keen to locate the aircraft to try and determine what caused the aircraft to fly past its destination and crash.