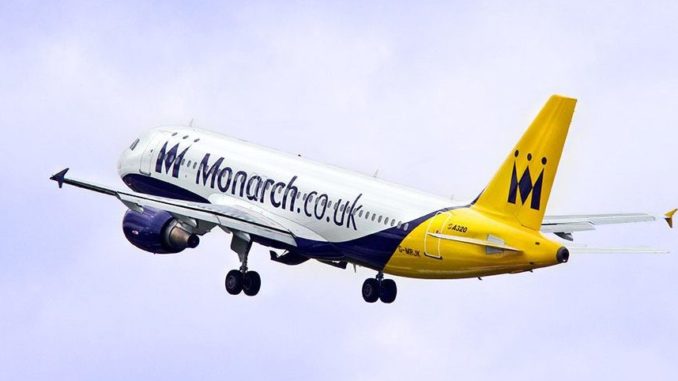 Monarch, the UK's oldest privately owned travel group, has ceased trading as it has been unable to get the investment required to meet ATOL requirements and continue trading.
The announcement came at the final flight touched down in the UK just after 3 am this morning and comes following days of talks between Monarch and the Civil Aviation Authority (CAA).
Sources have said that Monarch owners, Greybull Investments, were unwilling to put up the required funding to secure the ATOL certificate.
The CAA has drafted in around 30 aircraft from Qatar Airways, Titan Airways and Air Transat to help stranded holidaymakers return to the UK.
Any holiday purchased before the 1st October is covered by an ATOL bond so those who haven't travelled yet will get their money back. If you are on holiday then you will have a flight home.
Airlines including Norwegian (NAX), Easyjet (EZY) and BA Parent, IAG are understood to be looking at the aircraft and routes of Monarch.
Monarch was founded in 1967 and employs around 3000 people in the UK. It operates an all-Airbus fleet with 34 A320/A321 models. It has 45 Boeing 737 MAX on order which is one of the attractions for Norwegian.
Based in Birmingham it flew to 43 destinations across the world from airports in the UK including Birmingham, Gatwick, Luton and Manchester.
What to do if you booked a holiday from Monarch
Don't panic, you are protected by their ATOL Certificate up to the 1st October
If you haven't travelled yet, you can claim a refund from the CAA for package holidays booked through Monarch Holidays or another tour operator with an ATOL certificate
If you are on holiday, contact your holiday company or the CAA to find out what is planned for your return to the UK.
If you have booked flight-only then if you paid by Credit Card, contact your credit card company. If you paid by debit card then you will need to submit a claim to the creditors.
If you are flight only and have already travelled outbound, the CAA will repatriate you.
Visit the CAA's dedicated website for full information http://monarch.caa.co.uk
If you are a Monarch passenger please call 0300 303 2800 within the UK or +44 1753 330330 from outside the UK.
Andrew Haines of the CAA said "We know that Monarch's decision to stop trading will be very distressing for all of its customers and employees.  
"This is the biggest UK airline ever to cease trading, so the Government has asked the CAA to support Monarch customers currently abroad to get back to the UK at the end of their holiday at no extra cost to them. 
"We are putting together, at very short notice and for a period of two weeks, what is effectively one of the UK's largest airlines to manage this task.  The scale and challenge of this operation means that some disruption is inevitable. We ask customers to bear with us as we work around the clock to bring everyone home.
"We urge people affected by the company's collapse to check our dedicated website monarch.caa.co.uk for advice and information on flights back to the UK.  It also gives information to those passengers that have future bookings with Monarch but are yet to leave the UK."
In an internal email, Monarch's CEO Andrew Swaffield told staff they would hear from the appointed administrators, KPMG shortly.
The first CAA rescue flights touched down around 7am this morning from Ibiza at Birmingham and Gatwick.