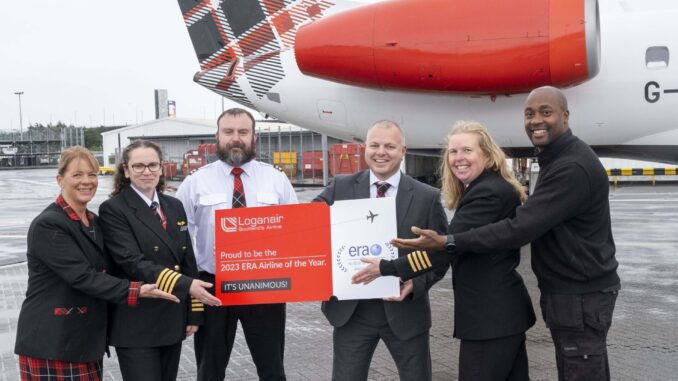 The European Regional Airline Association (ERA) has voted Loganair (LM/LOG) as Airline of the Year 2023 at its awards ceremony held in Innsbruck, Austria.
The UK's largest regional airline picked up the industry award, determined by a panel of independent, globally acclaimed judges, in recognition of its "impressive performance" in returning to printability following the pandemic whilst continuing to improve terms and conditions for its staff.
The panel also noted the airline's commitment to protecting the environment, particularly its GreenSkies programme which it launched in 2021 in order to mitigate the impact of flying by carbon offsetting and investment in sustainable aviation.
Jonathan Hinkles, CEO, Loganair, said: "It is an incredible honour to be named the ERA Airline of the Year award for 2023 and I'd like to thank our magnificent employees for their extraordinary efforts in recent years. We were one of the very few airlines to continue flying daily throughout the pandemic, providing essential travel to remote communities, air ambulance services for Covid patients, and energy industry charter services that ensured the UK's lights remained switched on.
"It is also very rewarding to be singled out for our environmental innovation. Developing sustainable aviation is vital for the future of our planet and people, as well as the industry."
Montserrat Barriga, Director General, ERA, added: "With an impressive overall performance during 2022, Loganair has overcome the challenges of the previous two years brought on by the pandemic.
"Simultaneously, it has delivered groundbreaking and meaningful environmental initiatives, supported social and humanitarian causes, and set in place key strategic innovations designed to secure its future. The airline's attention to detail, clear thinking and decisive actions have led to measurable positive outcomes.
"Congratulations to the entire Loganair team on this impressive achievement."